Rats On Planes: More Common Than You Think
---
An official of India's state-run Central Warehousing Corp., who declined to be named, confirmed that rats on planes are a more common problem than what people may expect. Central Warehousing offers pest control services to airlines, ports, railways, shipping companies and government offices in India, and spoke of the issue after a rat was discovered aboard an Air India Ltd. plane at the Delhi airport.
Although planes have different hygiene checks in place, many pests still manage to get inside the aircraft through food catering trucks and luggage trolleys. There are two types of pest treatments;
1. Spraying pesticides inside the aircraft
2. Fumigating: which requires the planes to be sealed and pumped full of lethal gas
Despite a spokesperson for Air India saying these rodents on board are a "rare occurrence", the official of Central Warehousing says they get "requests to fumigate four to five planes each month." Another pest control company in Southeast Asia said his company has helped clear rats from planes belonging to two Asian airlines, but as airline companies prefer to keep this a secret matter, exterminators often are required to sign confidentiality agreements.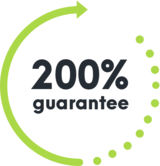 WE'RE NOT HAPPY UNLESS YOU'RE HAPPY
SEE HOW IT WORKS
With Competitive Pest Control Services you'll never have to worry about paying for a job that hasn't been done.

If you're not satisfied with our services, we'll not only give you your money back, we'll return it to you twofold. That's right: you'll not only receive a full refund, we'll also pay to have your pest problem sorted by our competition.*

We're always trying to raise the standard of service, it's one of the reasons we were name Australian Pest Manager of the Year four times in the past six years. When you employ our services, you know your pest problem will soon be a distant memory. What could be more satisfying than that?

*Please contact us to hear more about our 200% Money Back Guarantee - as due to issues sometimes outside our control, not all services may be covered by this offer.
Talk to us about pest control for your home or business