Grocery Firm Fined £10,000 After Pests Found
---
Mr. Mohammed Nazrul Hussain Mannan, the owner of a local Halal butchers shop, was fined £10,000 after Environmental Health Officers found a number of food hygiene breaches and rodent infestations. He was found to have sold unfit food that was contaminated by pests and not reasonable for human consumption. The shop also failed to ensure adequate procedures were in place to control pests.
Health officers inspected the rear of the warehouse store and reported to have found mouse droppings with the foods, on the shelves and on the floor. The area smelt of rodent urine and packets of food and boxes were sticky; which is a sign on urination by the rodents. Furthermore, there were no indications of food that were going to be thrown away, so it was assumed that they were intended for sale to the customers.
Mike Assenheim, Executive Councillor for Regulatory Control stated, "To not meet these basic standards of hygiene is both dangerous and unacceptable." This exposes the general public to food related illnesses.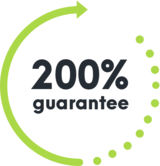 WE'RE NOT HAPPY UNLESS YOU'RE HAPPY
SEE HOW IT WORKS
With Competitive Pest Control Services you'll never have to worry about paying for a job that hasn't been done.

If you're not satisfied with our services, we'll not only give you your money back, we'll return it to you twofold. That's right: you'll not only receive a full refund, we'll also pay to have your pest problem sorted by our competition.*

We're always trying to raise the standard of service, it's one of the reasons we were name Australian Pest Manager of the Year four times in the past six years. When you employ our services, you know your pest problem will soon be a distant memory. What could be more satisfying than that?

*Please contact us to hear more about our 200% Money Back Guarantee - as due to issues sometimes outside our control, not all services may be covered by this offer.
Talk to us about pest control for your home or business