Birth Control For Rats?
---
Rat Birth Control: What It Is and Why It's Important?
Joining the portfolio of the wildlife contraceptive market, which already includes OvoControl bait for birds, vaccine ZonaStat – H for horses and GonaCon for deer, will be a contraceptive solution for rats and other rodents.
To manage increasing rat populations and infestations, Neogen Corporation has signed a licensing agreement with Senes Tech Inc. to release a rodent control product that aims at fertility control.
Through the use of existing rodenticides, the population will initially drop in the short-term. However, the introduction of a fertility control product is necessary to manage rodent populations in the long-term.
Unlike traditional rodenticides, which are intended to directly kill rodents, the new birth control for rats will chemically accelerate premature aging in rats. To disrupt their reproductive cycles, the new technology by Senes Tech will induce early menopause in female rats. This is a useful tool considering a single female rat can have up to 144 offspring a year.
This product is "environmentally friendly and sustainable in the pest management industry," says Dr. Loretta Mayer, Senes Tech's co-founder and chief scientific officer. The manufacturing and marketing of this rodent birth control will initiate safe and sustainable pest control methods across the globe.
(This is not a pest control solution we offer at CPS)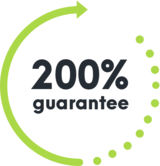 WE'RE NOT HAPPY UNLESS YOU'RE HAPPY
SEE HOW IT WORKS
With Competitive Pest Control Services you'll never have to worry about paying for a job that hasn't been done.

If you're not satisfied with our services, we'll not only give you your money back, we'll return it to you twofold. That's right: you'll not only receive a full refund, we'll also pay to have your pest problem sorted by our competition.*

We're always trying to raise the standard of service, it's one of the reasons we were name Australian Pest Manager of the Year four times in the past six years. When you employ our services, you know your pest problem will soon be a distant memory. What could be more satisfying than that?

*Please contact us to hear more about our 200% Money Back Guarantee - as due to issues sometimes outside our control, not all services may be covered by this offer.
Talk to us about pest control for your home or business