Chinese Woman Shares Her Home With 100,000 Cockroaches, Calling Them Her Babies
---
Chinese Woman Shares Her Home With 100000 Cockroaches
In the Fujian Province of South-East China, Yuan Meixia, a 37 year old cockroach breeder, shares her home with 100,000 cockroaches. Inside the rural woodland house, the doors have been replaced with silk nets and every crevice has been cemented to prevent the cockroaches from escaping.
She feeds them at 6pm every afternoon by leaving out apples, bran and melons around the house. She treats them like they are part of the family, calling them "my children, my babies"… until they are matured.
Once fully grown, she drowns them before leaving them out to dry. She has been breeding these pests and selling them to a pharmaceutical company where they are used for traditional Chinese medicine.
Harvesting every 2 months and collecting from 10-20kgs every time, she sells them for £70 (around AUD$130) a kilo.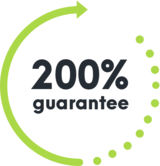 WE'RE NOT HAPPY UNLESS YOU'RE HAPPY
SEE HOW IT WORKS
With Competitive Pest Control Services you'll never have to worry about paying for a job that hasn't been done.

If you're not satisfied with our services, we'll not only give you your money back, we'll return it to you twofold. That's right: you'll not only receive a full refund, we'll also pay to have your pest problem sorted by our competition.*

We're always trying to raise the standard of service, it's one of the reasons we were name Australian Pest Manager of the Year four times in the past six years. When you employ our services, you know your pest problem will soon be a distant memory. What could be more satisfying than that?

*Please contact us to hear more about our 200% Money Back Guarantee - as due to issues sometimes outside our control, not all services may be covered by this offer.
Talk to us about pest control for your home or business