NY Jet's Nelson 'Quarantined' After Mosquito Bite In Haiti
---
New York Jets' wide receiver, David Nelson, missed the first week of the team's Organized Team Activities (OTAs) after coming back sick from Haiti.
Nelson said he had picked up "a bug" from a mosquito bite while he was in Haiti doing charity work. He suffered from a strep throat and had a 104-degree high fever. He was told by officials to keep clear from the team until he was fully recovered. "I was quarantined," says Nelson.
Nelson is now healthy and participating in preseason OTAs, however raises concerns when travelling to tropical regions and exposed to mosquitoes.
I'm Me, a charity by the Nelson brothers, provides food, shelter and education for orphans in the impoverished country. He spends his offseason working in Haiti for his foundation.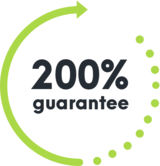 WE'RE NOT HAPPY UNLESS YOU'RE HAPPY
SEE HOW IT WORKS
With Competitive Pest Control Services you'll never have to worry about paying for a job that hasn't been done.

If you're not satisfied with our services, we'll not only give you your money back, we'll return it to you twofold. That's right: you'll not only receive a full refund, we'll also pay to have your pest problem sorted by our competition.*

We're always trying to raise the standard of service, it's one of the reasons we were name Australian Pest Manager of the Year four times in the past six years. When you employ our services, you know your pest problem will soon be a distant memory. What could be more satisfying than that?

*Please contact us to hear more about our 200% Money Back Guarantee - as due to issues sometimes outside our control, not all services may be covered by this offer.
Talk to us about pest control for your home or business