1st Annual Pest Control Conference
---
An Unforgettable and Informative Day at Competitive Pest Service's 1st Annual Pest Control Conference
The 1st Annual Pest Control Conference was held at Pan Pacific Hotel Yangon on 2nd October and Hilton Hotel Mandalay on 4th October. Led by a panel of keynote speakers that included some of the most esteemed industry experts within the pest control sector, the two-part conference provided a platform for these specialists to discuss issues relating to the protection of public health, food and property through effective pest management strategies. As stated by Gary Journeaux, CEO of Competitive Pest Services and Myanmar's leading termite specialist:
"After launching CPS Myanmar in 2015, we have decided now is the time to organise an annual conference to educate our clients and the greater market about pest control trends. Food Hygiene and Public Health was not at the forefront of discussions four years ago, however we are pleased to see this now becoming a priority"
This panel included such figures as Raja Mahendra, who worked as a marketer of pest control products in Europe and the APAC region, and Gary Journeaux. In addition, attendees were also treated to valuable insights from both Leonard Laird, a Hazard Analysis and Critical Control Point (HACCP) instructor, and James Ritter, a Field Biologist from the UK.
Aim of the Conference
The aim of the conference was to connect people within the international pest control community and further the public's understanding of pest management practices by spreading new ideas and sharing the latest technological advancements. In attendance were representatives from the Myanmar Hotels Association and the Myanmar Restaurant Association, who came away with valuable knowledge regarding the advantages of proper pest management in a commercial environment. From Gary Journeaux:
"Pest control affects us all, so we saw a great range of attendees at our conference"
From key trends shaping pest management and HACCP fundamentals, to advice achieving Integrated Pest Management (IPM) standards and termite baiting versus chemical baiting, the Pest Control Conference covered some of the most important topics faced by the industry, local businesses and homeowners in Myanmar. HACCP, Termite and IPM training was also offered to guests and a Certificate of Participation signed by all of the keynote speakers was provided. Leonard Laird, HACCP Auditor, shared:
"After years of performing HACCP Audits overseas, it is extremely rewarding to be now sharing this knowledge with the Myanmar people"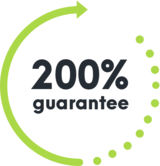 WE'RE NOT HAPPY UNLESS YOU'RE HAPPY
SEE HOW IT WORKS
With Competitive Pest Control Services you'll never have to worry about paying for a job that hasn't been done.

If you're not satisfied with our services, we'll not only give you your money back, we'll return it to you twofold. That's right: you'll not only receive a full refund, we'll also pay to have your pest problem sorted by our competition.*

We're always trying to raise the standard of service, it's one of the reasons we were name Australian Pest Manager of the Year four times in the past six years. When you employ our services, you know your pest problem will soon be a distant memory. What could be more satisfying than that?

*Please contact us to hear more about our 200% Money Back Guarantee - as due to issues sometimes outside our control, not all services may be covered by this offer.
Talk to us about pest control for your home or business