5 Reasons to Choose Our Pest Control Company
---
Although you can take steps like ensuring proper sanitation to prevent pests from taking over your home, sometimes it can be difficult to contain a particularly persistent pest, like termites. A study commissioned by the Australian Environmental Pest Managers Association (AEPMA) found the "average cost of treatment and repair of damage to be approximately $10,000 per house," in termite damage cases. Before pests infest your home significantly, you should call in a reliable pest control service.
Advantages of Choosing a Pest Control Company
Trying to use strong pesticides on your own can damage both your health and your property. 65% of a DIY pesticide related illness were due to misapplication of the over the counter pesticide, according to a study. A professional will know exactly how to use pesticides in the correct dose to tackle the pests in your house. These are the benefits of hiring a pest control service –
1. Specialized Plans
You've set up your home with great care, so it can be extremely distressing to see pests tear through it. A pest control company will create a customized plan to eliminate pests. They will survey your property first, to know the size of your home, the seriousness of the infestation and how to prevent pests from returning. If your home is newly constructed, consider pre-treatments to your house perimeter to keep pests out.
Here's what Sanja, a Competitive Pest Control Services (CPS) client had to say. "Your staff (members) were super-informative, looked at all areas of the house, provided suggestions on how to mitigate/avoid future outbreaks."
2. Save Hard Earned Money
Investing in expensive pesticides can be counterproductive. Without knowing how to use them in the right dose, you may create more problems than you solve. Rather than risk further damaging your property, it is safer to let an expert handle the issue. The products they use will be stronger than any you will get at a store.
If you're fighting pests resistant to conventional pesticides, like bedbugs, it's a losing battle. A pest control professional will draw on his experience and training to tackle such pests safely and effectively.
3. Experienced Technicians
Pest control technicians visit numerous homes to tackle a variety of pests, so it is likely that they would have come across a case similar to yours. They will use solutions that have worked for other homes like yours, to eliminate pests at your house too. "Sydney's eastern suburbs are notorious for cockroaches. I've found CPS is by far the best both in terms of service and control," says Tim, a CPS client.
The pest control technician should listen to your concerns and answer them to your satisfaction. They must also be able to identify the pest, tell you about its behaviour and gauge the extent of the infestation. The technician should be willing to discuss low toxicity product options with you.
The pest control agency should continuously train their technicians, so that they know about new pest control methods too. Your technician should know the biology of pests as well, so that he can figure out why there are pests in your home. Treating the root cause of the problem will ensure that it doesn't recur.
4. Time and Flexibility
Most pest control technicians work around client schedules, so they are available on weekends and after hours. You can supervise them without the tension of a ticking clock, your hand itching to close the door behind them and rush to work.
5. A Safe Home and No More Pest Related Messes
Pests nest in wood, chewing their way through that material. This weakens your home's structural integrity. Calling in a professional pest control agent will enable you to get rid of the pests quickly, before they cause significant damage to your house.
DIY pest control results in dead rodents, bugs, and pest droppings littering your house. You won't have to clean up this mess if you engage a pest control service.
Summing up
Singlehandedly fighting pests who can scurry away from you faster than you can move is a challenge. Calling in a pest control agency is the fastest way to get back your home from these unwanted guests, before they wreak too much damage. Otherwise, pests will significantly decrease the value of your home.
Pests like bedbugs are on the rise, like this study found. You will need to take steps to protect your home from them. Consider an award winning pest control agency like CPS, which has been AEPMA's Australian Pest Manager of the Year for four years.
Read More: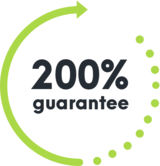 WE'RE NOT HAPPY UNLESS YOU'RE HAPPY
SEE HOW IT WORKS
With Competitive Pest Control Services you'll never have to worry about paying for a job that hasn't been done.

If you're not satisfied with our services, we'll not only give you your money back, we'll return it to you twofold. That's right: you'll not only receive a full refund, we'll also pay to have your pest problem sorted by our competition.*

We're always trying to raise the standard of service, it's one of the reasons we were name Australian Pest Manager of the Year four times in the past six years. When you employ our services, you know your pest problem will soon be a distant memory. What could be more satisfying than that?

*Please contact us to hear more about our 200% Money Back Guarantee - as due to issues sometimes outside our control, not all services may be covered by this offer.
Talk to us about pest control for your home or business