Why Choose CPS?
---
Why you should choose Competitive Pest Control?
Pests are … well … a pest. You can feel violated when your home is infested by termites, cockroaches, bedbugs, or rodents, and it can feel like a personal affront to your standards of cleanliness. You might even feel judged, and that can make it difficult to seek professional health. Fortunately, Competitive Pest Control Services has nothing but love for you and nothing but care in handling your pest problem. We've been in this business for over 25 years so you can trust to get rid of every last bug. We've even been awarded for our thoroughness.
Fully Australian owned
We're big believers in building local, and our company is wholly Australian. We use high-quality local products and serve all our customers with that special Aussie touch. Our work is ISO certified, and we have licensing for food safety as well as an award for the Best Pest Manager, a prize we've won from AEPMA four times since 2012 (Australian Environmental Pest Managers Association).
Kind on the environment, harsh on pests
Commercial pest control services work under a lot of pressure. If our pest treatments are too mild, the pests will survive, but if they're too harsh, they could harm the environment. We always strike an ideal balance, using pest control techniques that offer a 200% safety guarantee for pets, kids, and the environment in general. Our treatments are carbon neutral and we 'don't do' harmful emissions. It's not in our ethos. Our technicians receive on-going training in the latest methods of termite protection, with courses at least once a month.
Hire a business with a heart of gold
While many businesses engage in CSR (corporate social responsibility), we go all in, and our involvement is direct and unambiguous. Every time we hire a new technician, we sponsor a new underprivileged Cambodian child. It's not an abstract sponsorship either. We assist their family, pay for their education, and offer them lifelong support that will improve their chances in life. Since we currently have representation all over Australia, we have a demonstrable hands-on effect on over 1,800 Cambodian students and up to 10,000 of their family members.
Multiple locations, multiple pests
Often, an exterminator will have a narrow field of expertise, like cockroach control in Sydney. Not us. We can get rid of rats, ants, wild birds, spiders, snakes, mosquitoes, mice – pretty much any pest that isn't related to you by blood or marriage. We can even remove bats and bush animals from your home. And you can reach us any time you want from any part of Australia. We have offices from Darwin to Hobart and even in Perth, and we service both residential pest control and commercial pest control. We'll even fumigate your ute if you like, just give us a call.
Free assessment and quotation
Before we crush a tiny bug or lift a single spray can, we'll make sure you're okay with our plan and our price. We'll do a thorough inspection of the infestation site and issue a report telling you the extent of the damage, or extermination strategy, and all the costs involved, in clear detail and with no hidden surcharges. Once you give us the go-ahead, we'll make sure your pests are dead or transferred to nature reserve if they're endangered.
For professional, environmentally friendly pest control, call Competitive Pest Control Services today on 1300 395 769.
Read More: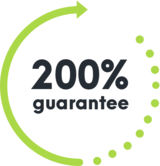 WE'RE NOT HAPPY UNLESS YOU'RE HAPPY
SEE HOW IT WORKS
With Competitive Pest Control Services you'll never have to worry about paying for a job that hasn't been done.

If you're not satisfied with our services, we'll not only give you your money back, we'll return it to you twofold. That's right: you'll not only receive a full refund, we'll also pay to have your pest problem sorted by our competition.*

We're always trying to raise the standard of service, it's one of the reasons we were name Australian Pest Manager of the Year four times in the past six years. When you employ our services, you know your pest problem will soon be a distant memory. What could be more satisfying than that?

*Please contact us to hear more about our 200% Money Back Guarantee - as due to issues sometimes outside our control, not all services may be covered by this offer.
Talk to us about pest control for your home or business