Competitive Pest Services Data Breach: What Happened and How We Plan to Fix It
---
Recently we discovered that some data from all of our clients was compromised.
This discovery came about when customers contacted us to advise they were approached by a third party. We'd like to thank those customers and invite anyone else who was contacted to get in touch with us directly using the details provided below.
We are working rapidly to investigate the situation. We are also taking the appropriate measures to prevent such incidents from happening in the future. On behalf of the team at Competitive Pest Services, we are very sorry for any inconvenience this may cause you.
We understand you're worried about having personal information shared without your knowledge. In this article, we'll attempt to inform you of the details of this incident and the scope of this data breach. You can also find a list of frequently asked questions regarding data breaches.
What happened?
We're still investigating the data breach, however, based on what we know it appears a former employee has downloaded customer information from an existing database and taken it to a competitor. This was not a cyberattack.
We're in the process of pursuing legal action against this former employee. In the meantime, it's important for you to know that we are taking steps to contain this incident and notify our clients. We believe that the security of your data is paramount, and we're committed to preventing this type of incident from ever happening again.
What information was involved?
The following information of yours has been compromised:
⦁ Name
⦁ Address
⦁ Phone number
Please note that we do not store your date of birth, personal details or payment information, therefore your credit card details have not been taken.
What are we doing?
We are taking the following steps in order to improve the security of your personal information going forward:
⦁ The root cause of the data breach has been contained
⦁ We're notifying all clients that their data has been compromised
⦁ All business software has been upgraded to include advanced data encryption and suspicious download notification capabilities
⦁ We'll continue to make security improvements that protect sensitive client information and proprietary data
Frequently Asked Questions
Read on for more detailed information concerning this data breach. For specific questions or any urgent concerns, please contact our operations manager Oliver Robbins via [email protected] or our chief executive officer Gary Journeaux via [email protected].
What is a data breach?
A data breach is any incident that includes the unauthorised release of sensitive information. The most prevalent type of data breach is when a cybercriminal copies, transmits or distributes personal data.
Loss or theft of a physical device or paper records that contain personal information is also a common type of data breach. In our case, a former employee obtained names, address and phone numbers and took them to a competitor. No financial information such as credit card details from individuals or companies was stolen.
Why do they happen?
Data breaches can happen to businesses of all sizes. Yahoo, the Marriott hotel chain and even Facebook are just some of the more high-profile data breaches of the last two decades.
The most common reason why data breaches occur is because of a targeted attack, however, they can also occur accidentally. Some data breaches can go undetected for long periods of time. We're fortunate in the sense that we could quickly identify the source of the data breach and take the necessary steps to contain it.
Should I be worried?
All data breaches should be addressed immediately. The truth is though that some data breaches are more cause for concern than others. The disclosure of sensitive payment information by way of hackers or 'human error' are two examples of data breaches that may cause serious harm.
Unauthorised access to personal information that can be easily sourced by some type of public register isn't likely to result in dire consequences. As a business that's built its reputation on building trust through positive customer interactions though we are treating this data breach with the utmost prudence.
Has this happened before?
We've never had a data breach in the 25 years we've been operating. With the help of both internal and external experts, we are confident we've put the appropriate measures in place to ensure this does not happen again. We would like to take this opportunity to reiterate our commitment to providing you with the best service possible.
Is there anything I need to do?
You do not need to take further action at this point in time. We've already been notified that a former employee is contacting our clients and the incident has been contained. We have also commenced building a case against this former employee and we thank those of you who advised us that they were approached.
What prevents this from happening again?
While this was not a cyberattack, we've decided to upgrade our computer software to prevent any type of data breach in the future. We are now notified immediately when there has been a suspicious download. This ensures we're protected from internal threats. All data has also been encrypted with a built-in security tool that enhances trust, transparency, compliance and governance across our network, thereby ensuring your private details remain safe.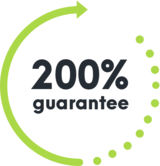 WE'RE NOT HAPPY UNLESS YOU'RE HAPPY
SEE HOW IT WORKS
With Competitive Pest Control Services you'll never have to worry about paying for a job that hasn't been done.

If you're not satisfied with our services, we'll not only give you your money back, we'll return it to you twofold. That's right: you'll not only receive a full refund, we'll also pay to have your pest problem sorted by our competition.*

We're always trying to raise the standard of service, it's one of the reasons we were name Australian Pest Manager of the Year four times in the past six years. When you employ our services, you know your pest problem will soon be a distant memory. What could be more satisfying than that?

*Please contact us to hear more about our 200% Money Back Guarantee - as due to issues sometimes outside our control, not all services may be covered by this offer.
Talk to us about pest control for your home or business