5 minutes with Zac
---
Interview with Zac- CPS Technician, and also Employee of the Quarter at CPS. Here is what Zac had to say:
Q1. What was your childhood nickname? 
It was and still is Zaggy. 
Q2. What's the strangest talent you have? 
I can make perfect pork crackling 10/10 times might not be strange but it's a talent none the less.
Q3. What's one thing most people don't know about you? 
 I do get super nervous but I hide it very well. 
Q4. What was your favorite toy as a kid?  
Oh man, I used to play with this barney the dinosaur doll I was so attached to it. 
Q5. If you were the only human left on Earth, what would you do? 
Probably freakout at first then adapt and party with myself and figure the rest out later.
Q6. What are three things still left on your bucket list? 
I need to go to America, Own a race horse and feel what it's like to receive a black belt in jiu jitsu.
Q7. If you could have any one superpower, which would you choose? 
To be able to control people's minds.
Q8. What was your favorite TV show when growing up? 
I was a nick kid through and through, catdog, angry beavers, rockos modern life, spongebob. Heaps of Simpsons as well.
Q9. Choose a movie title for the story of your life. 
Stranger than fiction.
Q10. Can you play any instruments? 
Guitar/sing I'm known to hit a few notes. 
Q11. Do you have any strange phobias? 
Nah not really.
Q12. Are you an early bird or a night owl? 
The early bird gets the worm but the second mouse gets the cheese. So I am an early bird.
Thank you Zac for taking the time to speak with CPS about your personal things. It was a pleasure talking with you, and I really enjoyed hearing all the details you shared.
Thank you again!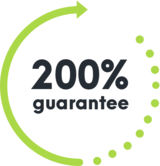 WE'RE NOT HAPPY UNLESS YOU'RE HAPPY
SEE HOW IT WORKS
With Competitive Pest Control Services you'll never have to worry about paying for a job that hasn't been done.

If you're not satisfied with our services, we'll not only give you your money back, we'll return it to you twofold. That's right: you'll not only receive a full refund, we'll also pay to have your pest problem sorted by our competition.*

We're always trying to raise the standard of service, it's one of the reasons we were name Australian Pest Manager of the Year four times in the past six years. When you employ our services, you know your pest problem will soon be a distant memory. What could be more satisfying than that?

*Please contact us to hear more about our 200% Money Back Guarantee - as due to issues sometimes outside our control, not all services may be covered by this offer.
Talk to us about pest control for your home or business