Competitive Pest Services acquires Bird Prevention Specialists and Pest Prevention Specialist
---
Competitive Pest Services is pleased to announce the acquisition of New South Wales' based company Bird Prevention Specialists (also trading as Pest Prevention Specialists).
Bird Prevention Specialists and Pest Prevention Specialist
Bird Prevention Specialists and Pest Prevention SpecialistLike Competitive Pest Services, Bird Prevention Specialists is 100% Australian owned. They also boast 25 years of bird control experience, during which time they've worked with leading construction, architecture and roofing companies across the country. Their ability to supply, install and implement the very best deterrent solutions and systems has made them highly regarded within the bird and pest control industries. From Bird Prevention Specialists Service Supervisor, Andrew Grey:
"We're thrilled to be joining a company such as Competitive Pest Services that is also Australian owned. We strongly believe that their emphasis on integrity, affordability and a system-based structure will help us better serve our valued clients"
Competitive Pest Services can now expand the scope of their offerings into the bird control industry using Andrew's many years of experience as a foundation. The merger also means that both new and current clients will be able to access premium bird control services at affordable prices, which equates to better results and better savings for the end customer. From Chief Executive Officer of Competitive Pest Services, Gary Journeaux:
"We're constantly looking to incorporate likeminded businesses into our existing operations. The acquisition of Bird Prevention Specialists is a major win for our company, but mainly for the customer who will benefit greatly from our professional, efficient and affordable approach"
With permanent staff already servicing New South Wales, Queensland and Victoria, this partnership will only bolster Competitive Pest Services' reach on the eastern coast of Australia. Clients can now look forward to the same high standard of customer care that Competitive Pest Services is known for combined with the introduction of value for money bird control capabilities in 2020 and beyond.
About CPS: Competitive Pest Services is an award-winning, triple ISO and HACCP certified pest management company with 150 staff globally. For more information, please call on this phone 1300 766 614.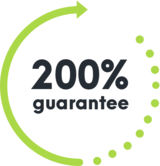 WE'RE NOT HAPPY UNLESS YOU'RE HAPPY
SEE HOW IT WORKS
With Competitive Pest Control Services you'll never have to worry about paying for a job that hasn't been done.

If you're not satisfied with our services, we'll not only give you your money back, we'll return it to you twofold. That's right: you'll not only receive a full refund, we'll also pay to have your pest problem sorted by our competition.*

We're always trying to raise the standard of service, it's one of the reasons we were name Australian Pest Manager of the Year four times in the past six years. When you employ our services, you know your pest problem will soon be a distant memory. What could be more satisfying than that?

*Please contact us to hear more about our 200% Money Back Guarantee - as due to issues sometimes outside our control, not all services may be covered by this offer.
Talk to us about pest control for your home or business