What's the difference between a pest inspection and pest control?
---
If you suspect your home or business is suffering from a pest invasion, the logical next step is to call a pest professional. With so much industry jargon surrounding the different types of pest management though, it can be difficult knowing which service is best for your particular situation.
With this guide, we give you the information you need to make an informed decision. This is done by providing a breakdown of the differences between a pest inspection and pest control. While you don't need to commit all of this info to memory, knowing which service is right for you will make your life easier at a time when it feels like things aren't going to plan.
What is a pest inspection?
A pest inspection is a name given to either a pre-purchase or routine inspection of your home or business for damaging pests. You cannot hope for effective pest control if you haven't already had a comprehensive pest inspection of your property.
Pre-purchase pest inspection
A pre-purchase pest inspection is when a pest specialist looks for signs of a pest invasion in and around a property that you're interested in buying. This is not the same thing as pre-purchase building inspection, which should never be considered a substitute for a professional examination for pests in a home or business for sale. A pre-purchase pest inspection can save you hundreds or even thousands of dollars in damages by highlighting evidence of a pest invasion before you commit to buying.
Routine pest inspection
A routine pest inspection is any pest inspection that is scheduled for a regular basis. Given that the majority of Australian homes and businesses are susceptible to pests year-round (especially those on the east coast in the Sydney area), a routine pest inspection should be carried out annually at the very least. Regular pest inspections will ensure you pick up on small infestations before they get out of hand, damage your property or impact the wellbeing of your family, employees or customers.
What happens during a pest inspection?
A pest inspection encompasses our team undertaking a methodical sweep of your property in an effort to identify signs that your home or business has been compromised. This visual examination is carried out using state of the art equipment, such as thermal imaging cameras, moisture measuring tools, boroscopes and radar detection units.
During a pest inspection, we will be searching for any evidence that your property is host to a pest or pests. Every room in of your property will be inspected, as will subfloors, roof cavities, outbuildings and your garden.
We will make notes throughout our inspection and take photographs of anything that can help us in our report. This includes signs of past pest problems in addition to at-risk areas in or around your home or business.
Pest inspections can take anywhere from an hour to a few hours depending on the size of the area we are required to investigate. Once we've completed the physical examination stage, we'll prepare a detailed multipage report that breaks down our findings and recommendations.
This report can then help you determine whether or not to continue with a property transaction or whether your home or business requires pest control.
5 things you should know about pest inspections
Here are 5 things you should know about our pest inspection services:
1. The experience of the inspector is everything
There's no substitute for experience when it comes to pest inspections. A highly trained pest inspector will pick up on things that other pest inspectors won't. They also know how to deal with dangerous or poisonous pests and remove them in a humane manner.
Our pest inspectors are even versed in the many life cycles and behaviours of pests, which means they know exactly where to find them and how they respond to different seasons or weather conditions.
2. A pest inspection can save you thousands in cash
A pest inspection can literally save you hundreds if not thousands of dollars in costly repairs or lost business. A pest inspection conducted by Competitive Pest Control is also tailored to your situation and your budget, which makes them incredibly affordable.
3. It's a necessary part of the homebuying process
Buying a house is one of the biggest financial investments you'll ever make. By scheduling a pre-purchase pest inspection, you can ensure the home of your dreams isn't actually a house of horrors. Not only will a pre-purchase pest inspection reveal any signs of pest damage, but it will also give you the upper hand when it comes time to negotiate on price.
4. You can be present for a pest inspection
Many of our clients worry that they'll be in the way if they're around during a pest inspection. The truth is that we prefer to have you on the property, as it allows us to show and explain the problem areas in person. If you can't be present though, that's also not an issue. We'll still send you a detailed report with photos that highlight signs of a pest infestation and offer recommendations.
5. They should be undertaken with regularity
Unfortunately, when it comes to pest inspections, there's no such thing as set and forget. Seasons change, pests breed and once-flawless homes or businesses can quickly become shelters for harmful critters both big and small.
To safeguard your family, yourself and your property from a pest invasion, we suggest booking a routine pest inspection annually. This way you can protect those closest to you, get an idea as to your property's vulnerabilities and potentially save yourself thousands in future repairs.
WHAT IS PEST CONTROL?
Pest control is the part of the job when we get our hands dirty. If a pest inspection is a warmup to the big game, then pest control is when all the action takes place.
Essentially, pest control is the process of controlling or managing pests in your home or business using a variety of diverse yet effective eco-friendly and humane methods. These methods are deployed based on the property type, the type of pests we're dealing with and the severity of the pest invasion.
What happens during pest control?
Assuming that a pest inspection has already been conducted, we begin by dealing with the pests that have already invaded your property using the appropriate baiting or trapping technology or chemical treatment. Our goal is to eradicate or remove the particular species of pest using strategies tailored to your unique situation.
In the case of termites of white ants, pest control also involves assessing the structural damage done to your home or business and removing any infected timber. For pests that have the potential to harm humans (either by direct contact or the spreading of bacteria), we aim to reduce the risk they pose using dependable and affordable extermination techniques.
Once we're satisfied that all pests have been removed or eradicated, we then proceed to seal up any and all points of entry that pests may be using to access your property. This prevents subsequent intrusions and is an especially important step during the colder months since cooler weather is known to drive pests inside.
5 things you should know about pest control
Here are 5 things you should know about our pest control capabilities:
1. Once is never enough
A single treatment session is rarely enough to eliminate both the pests and their eggs or larvae. This means that repeat treatments should be carried out until your home or business is both pest and egg-free. Of course, if we deem that your property has been totally cleared of invaders during the first round of treatment, repeat visits won't be necessary. However, we suggest scheduling a follow-up appointment for the near future just to be safe.
2. You can also help with pest management
You have the power to stop pests from invading your home or business. All it takes is regular cleaning, proper waste disposal and the safe storage of food. By keeping your property clean, pests will have less opportunity to feed and breed, which in turn ensures they never take over completely. Always wipe spills, mop leftover water sources and be on the lookout for the first signs of pests in your home or business.
3. Pest control isn't just confined to a single room
Proper pest control doesn't end in one room or even with the inside of your home or business. It extends beyond the confines of the interior of your property to fences, wood stacks, outbuildings such as sheds and your gardens. Undertaking pest control on this scale takes time, but it's really the only way we can guarantee total pest removal or eradication.
4. Pest control can be eco-friendly and humane
All of our equipment and products are highly-effective, as well as being safe for your family, your employees and the environment. Our eco-friendly solutions are designed to treat the source of your problem, which ensures pests are controlled in a humane manner. Eradication is seen as a final resort when preventive measures or exclusion and removal methods cease to work. To further our claim as a friend of the environment, Competitive Pest Control is also 100% carbon neutral.
5. There's no need to stress
Relax. We'll work around your belongings and be as unintrusive as possible without compromising our ability to do the job. Simply call us today and let our experts handle your pest problem. We take care of everything and will work towards making your home or business safe again as soon as possible. If for whatever reason you're not satisfied with our services though, we'll not only give you your money back, we'll return it to you twofold. That means you'll not only receive a full refund, we'll also pay to have your pest problem sorted by our competition.
Book a pest inspection with Competitive Pest Control today by phoning 1300 766 614
Read more:
How Often Should I Book a Pest Inspection?
All About Our Commercial Pest Control Services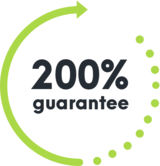 WE'RE NOT HAPPY UNLESS YOU'RE HAPPY
SEE HOW IT WORKS
With Competitive Pest Control Services you'll never have to worry about paying for a job that hasn't been done.

If you're not satisfied with our services, we'll not only give you your money back, we'll return it to you twofold. That's right: you'll not only receive a full refund, we'll also pay to have your pest problem sorted by our competition.*

We're always trying to raise the standard of service, it's one of the reasons we were name Australian Pest Manager of the Year four times in the past six years. When you employ our services, you know your pest problem will soon be a distant memory. What could be more satisfying than that?

*Please contact us to hear more about our 200% Money Back Guarantee - as due to issues sometimes outside our control, not all services may be covered by this offer.
Talk to us about pest control for your home or business