All About Our Commercial Pest Control Services
---
It doesn't matter what your business is, or what your industry is, pests are bad. The good news is at CPS we have the experience and skills to deal with any and all pest issues. When it comes to commercial pest control we take our job seriously, you have a problem and we need to fix it. Commercial clients are important to us, and for this reason we have a dedicated client service manager to handle our commercial customers, you deal with the same person who knows what it is you need and how to handle the problem.
Commercial pest control Sydney technicians work with you to determine the best way to tackle your problems while being mindful of the needs of your business. There are no hidden costs, a quote is transparent, if you decide to use our services, the written quote is all you'll pay, there are no hidden charges or upfront fees.
We know what pests mean to your business, especially in the food preparation and service industry, our team are aware of all the food and safety regulations and we can get your business back up and running, pest free thanks to our tailored solutions.
Unfortunately, pest control issues are ongoing this makes pest control an on-going event, not a one-off solution. We work with you to keep your business pest free and this includes looking for any problem areas so once the problem is under control those pests don't come back. Our solutions are tailor made just for you, your business and your specific commercial pest control issue. We use the safest materials to prevent any contamination to food, while still stopping the pest problem.
Commercial Pest Control Solution
Our solutions provide long-lasting preventative measures, as with your home, pests are and can be an on-going issue, we provide an exclusion plan that stops pests and bugs from coming back.
Every business is different and what plan or solution works for one business, doesn't always work for another, so we arrange detailed specialised inspections to spot any problems that are unique to each and every business, this can include sanitation threats or structural vulnerabilities. All solutions are tailor made and specific to you and your pest problem.
Thanks to our electronic reporting and documentation our online system gives you peace of mind, you know your business is protected by a solution tailor made just for you.
5 Benefits of Pest Control Services
The benefits and features our services provide you include:
1. You have your service report history available 24/7 right at your fingertips
2. All your pest management data is stored electronically
3. You can view your pest control schedule any time
4. With real-time reporting you know everything will always be up to date
5. Copies of all licenses, msds, site maps and insurances are all together in one place that is easy for you to access.
For a guaranteed pest inspection Sydney and child-safe, pet-safe environmentally friendly pesticides, call CPS today on 1300 395 769.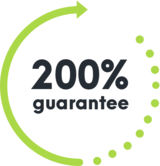 WE'RE NOT HAPPY UNLESS YOU'RE HAPPY
SEE HOW IT WORKS
With Competitive Pest Control Services you'll never have to worry about paying for a job that hasn't been done.

If you're not satisfied with our services, we'll not only give you your money back, we'll return it to you twofold. That's right: you'll not only receive a full refund, we'll also pay to have your pest problem sorted by our competition.*

We're always trying to raise the standard of service, it's one of the reasons we were name Australian Pest Manager of the Year four times in the past six years. When you employ our services, you know your pest problem will soon be a distant memory. What could be more satisfying than that?

*Please contact us to hear more about our 200% Money Back Guarantee - as due to issues sometimes outside our control, not all services may be covered by this offer.
Talk to us about pest control for your home or business