How Often Should I Book a Pest Inspection?
---
Without a doubt, regular pest inspections are an important way to ensure your home or commercial property is free from unwanted pests. Pest control in Sydney will also help secure your home or business against their entry. A pest inspection should be carried out at least once a year, of course, there are other factors which may affect your time frame when it comes to a pest control inspection.
Pest Inspection Factors:
• The age and construction of your property. If your home has been shown to be vulnerable to pests, or your home is an older home, you may require more frequent pest control inspections. Once your property is inspected the technician will discuss his findings with you and suggest any treatment or extermination options available – if need be.
• Properties in pest-prone regions or heavily wooded areas may require more frequent pest inspections as the threat of pests is often higher in these areas. If you do live in a *hot-spot* to protect your home and prevent pests and damage more frequent pest inspections may be necessary. There are areas in and around Sydney that are vulnerable to termite infestations and should be inspected frequently.
• Termite inspections are often simple and include a visual inspection for signs of live and active termite issues at your home. Technicians will look for any signs of structural damage with other equipment used – if necessary – to determine whether termites are present in your property or not.
What you need to know about Pest Inspections:
Everyone knows it can be difficult to get rid of a pest infestation and when it comes to pest control regular treatments matter. This is considered as *preventative pest control* it helps stop any problems and keeps your home pest-free:
• Pest control technicians will spend time looking over your property for signs of infestations or problems, they may even find a problem you didn't know you had! Pests can be secretive and hide in spots that can be hard to see.
• Once the technician has identified an issue, how severe it is and what it is going to take to fix they will design a schedule that suits your problem.
• How often this pest control treatment will be carried out depends on many things including the location of your home and the severity of the problem.
• If your issue is a simple as cockroaches and ants a bi-monthly service should be enough to keep them at bay.
• Every infestation is different and will have to be treated differently, in general, bi-monthly treatments are usually sufficient.
• Treatments used are ultra-modern and effective and most importantly are safe for you, your family and your pets.
• A typical pest control service covers common pests including, ants, bed bugs, cockroaches, fleas, silverfish, spiders, ticks and pantry pests.
Read More: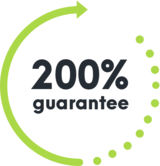 WE'RE NOT HAPPY UNLESS YOU'RE HAPPY
SEE HOW IT WORKS
With Competitive Pest Control Services you'll never have to worry about paying for a job that hasn't been done.

If you're not satisfied with our services, we'll not only give you your money back, we'll return it to you twofold. That's right: you'll not only receive a full refund, we'll also pay to have your pest problem sorted by our competition.*

We're always trying to raise the standard of service, it's one of the reasons we were name Australian Pest Manager of the Year four times in the past six years. When you employ our services, you know your pest problem will soon be a distant memory. What could be more satisfying than that?

*Please contact us to hear more about our 200% Money Back Guarantee - as due to issues sometimes outside our control, not all services may be covered by this offer.
Talk to us about pest control for your home or business