How to Prevent Bed Bugs
---
Bed bugs have become more common in recent years and are very hard to eradicate and while hotels are high on the list when it comes to bed bugs, any public place can become a haven for bed bugs. Fortunately, there are steps you can take to help prevent a bed bug infestation in your home, by avoiding bed bugs when traveling, avoiding contaminated materials and protecting your home, you can prevent bed bugs.
6 Easy tips to Prevent Bed Bugs:
1. Replace your mattress every 2-3 years. While this is a short time to have a mattress, it's a good way to help with bed bug pest control by eliminating the problem at it's source. Once bed bugs have invaded your mattress, it's very hard to see where they are and actually how many bugs there are. Bed bugs can linger in other areas around your home, but the most common place to find them is in your bed.
2. Use a plastic cover. You can help prevent bed bugs by using a plastic cover over your mattress, there are covers that have been designed just for this purpose and they are more effective than using sheets or a mattress protector. If you do happen to bring home some bed bugs, the protective cover will make it easier for you to see the bugs. If you have brought bed bugs home, wash all the clothing and other fabrics you travelled with and then check the plastic cover, so you can employ bed bug pest control measures to deal with the issue.
3. If bed bugs have already infiltrated your mattress it's best to just throw the mattress out than try and remove the bed bugs.
4. Vacuum your carpets and rugs at least once a week, if you think you have come in contact with bed bugs, vacuum daily until you are sure your home is clean. Dispose of the contents of the vacuum cleaner in a plastic bag, this way you can seal them inside and toss them into the bin. If you do have bed bugs and you don't empty the vacuum cleaner, it can allow the bugs to spread.
5. There are some other options you can use to keep bed bugs away, you can add 6-10 drops of pure essential oil to a small spray bottle filled with a ¼ cup of water. Spray your house and on other items you take with you when you go out – clothing, handbags, luggage etc. Some essential oils that repel bed bugs include tea tree, eucalyptus, cinnamon, peppermint, lemongrass, clove, lavender and thyme.
6. Clear out any clutter, bed bugs love to hide, and clutter makes it easier for them to infest your home – and hide. It's also harder for you to look for the presence of bed bugs if you can't get to items, or you can't easily move them around. Minimising hiding places is a great way to help keep them out.
Read More: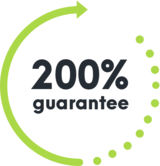 WE'RE NOT HAPPY UNLESS YOU'RE HAPPY
SEE HOW IT WORKS
With Competitive Pest Control Services you'll never have to worry about paying for a job that hasn't been done.

If you're not satisfied with our services, we'll not only give you your money back, we'll return it to you twofold. That's right: you'll not only receive a full refund, we'll also pay to have your pest problem sorted by our competition.*

We're always trying to raise the standard of service, it's one of the reasons we were name Australian Pest Manager of the Year four times in the past six years. When you employ our services, you know your pest problem will soon be a distant memory. What could be more satisfying than that?

*Please contact us to hear more about our 200% Money Back Guarantee - as due to issues sometimes outside our control, not all services may be covered by this offer.
Talk to us about pest control for your home or business