Some Preventive Pest Control Measures to Take Over Winter
---
When it snows, birds migrate to warmer climates. Aussie winters don't get very snowy, so our birds aren't migratory. Unfortunately, neither are our pests. When it gets chilly, we humans want to hunker down indoors and keep warm. So do our friendly neighborhood spiders and all the other critters. And unlike many outdoor mammals, pests rarely hibernate. That means we have to be much more deliberate about keeping them under control.
Winter Pest Control in Your Home
CPS tracks pests all year round, and we've found that while warmer seasons encourage flying insects, winter is more likely to invite rodents and wild game. You might get cockroaches, attracted to your home heating system. It could be helpful to hire commercial pest control services and have them audit your home. CPS is always available to evaluate your house or office for infestation and give you a free quote.
Walkabout the house
Thoroughly check the external portions of your house, paying particular attention to inlet pipes and outlet drains. They may seem small to you, but mice and other rodents can easily crawl up those pipes and get into the house. Place screens over the holes, and you could also put cone stops around them, making it harder for pests to scale. If there are any gaps or cracks in the pipes, repair them.
You should also look for crevices in the walls, beneath doors, and below windows. Seal them completely with caulk or ceiling panels to prevent pests from squeezing through. Areas that have natural openings like chimneys and air vents should be screened with tiny mesh. Areas that are already screened should be checked, in case the mesh has rusted or ripped open.
Anti-pest Security
Ensure that your doors and windows are always closed, especially at night, or when the house is unoccupied. You might consider installing motion sensors that trigger floodlights and loud alarms. These are often sensitive enough to detect the smallest animal, and the sudden light and noise could scare them away.
Inspect your basement, attic, garage, and unused storage rooms. These rooms are idle, and make great hiding places for pests. Empty them, air them to freshen them up, and install lights if you need to. Get rid of any damp or moisture in these spaces, and remove any clutter that might invite or encourage winter pests. Keep them clean and well-ventilated.
Bathrooms and Kitchens
These parts of your home are often wet, so it can be hard to keep them moisture-free. If you don't have fans, you can have some installed. Rig them to the light switch. This way, whenever anyone turns off the light after taking a shower, cooking, or doing the dishes, the fan will automatically switch on to aerate the room and dispel moisture. Set a timer on the fan, so it doesn't waste power. It should only run long enough to clear any water vapour.
All storage containers should be covered, especially in sheds, garages, and storage rooms. This prevents pests from clambering into them unnoticed. It also keeps food safe and detracts pests that may be looking for something to eat. If you use a wood-burning heater, stack your wood six or seven metres away from the house. When you bring in the logs, check them to be sure no insects or rodents are trying to ride them into the house.
To keep your home pest-free this winter, call CPS today on 1300 395 769.
Read More:
Why We Started Cps?
Why Choose Cps?
What to Do About Possums in Sydney?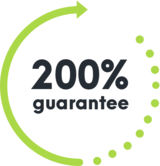 WE'RE NOT HAPPY UNLESS YOU'RE HAPPY
SEE HOW IT WORKS
With Competitive Pest Control Services you'll never have to worry about paying for a job that hasn't been done.

If you're not satisfied with our services, we'll not only give you your money back, we'll return it to you twofold. That's right: you'll not only receive a full refund, we'll also pay to have your pest problem sorted by our competition.*

We're always trying to raise the standard of service, it's one of the reasons we were name Australian Pest Manager of the Year four times in the past six years. When you employ our services, you know your pest problem will soon be a distant memory. What could be more satisfying than that?

*Please contact us to hear more about our 200% Money Back Guarantee - as due to issues sometimes outside our control, not all services may be covered by this offer.
Talk to us about pest control for your home or business