All About Our Termite Services
---
In Australia one in three homes are attacked by termites making them one of the major threats to homes across Australia costing an estimated $700 million in damage each year. We provide a three-stage process when it comes to termite protection, this includes Termite inspection, treatment, followed by an after sales service that is second to none to ensure your home stays free from termites into the future.
Termites: How to Identify and Control Them
The most destructive termite is the Subterranean termite and it should be taken seriously. If you notice a problem, there is no time to *put it off* the longer you leave a problem, the worse it will get. The best treatment is prevention, so you need to have regular termite inspections carried out by a fully licensed and trained termite pest control technician. This is the best way to stop any infestations. If there is any damage to your home, or you are experiencing moisture or water issues this needs to be dealt with. Subterranean termites need moisture to survive and they can live undetected underground for years without you even knowing. Warning signs of termites/termite damage include hollow sounding wood, bubbling paint on timber and mud tubes on walls and timbers.
Our technicians use a range of inspection methods and equipment to thoroughly inspect your home.
When it comes to termite protection, our pest exterminator Sydney develop a treatment plan that is designed for your property, the local environment and conditions. We establish a perimeter for your home using discreet in-ground treatments, and we protect your home from any current infestations and prevent new ones from occurring by destroying any near-by nests.
Technicians then continue to monitor your property adjusting any treatment plans as required, ensuring your home stays termite free. We have many different ways to protect your home, and, it's never too late, from baiting and soil barriers to monitoring systems and liquid control treatments for existing properties, we take the time to educate you on property management tips to reduce your risks of an infestation starting.
Termites common in Australia
Termite bodies are brown to white with a dark head and they have no waist between the thorax and abdomen. They have bead-like segments on their antenna and non-reproductive termites are blind, never fly and have thin skin that makes them vulnerable to drying out.
Nests form in soil mounds, trees or underground. There are 5 main types of nests and many species build more than one type of nest.
Tree nests – outside in trees connected to an internal cavity
Tree wood – inside the tree
Ground mounds
Subterranean nests – underground, in soil, stumps and tree bases
Pole nests – on structures such as fence posts and telegraph poles
Not all termites feed on wood, most feed on grass and other matter and are not dangerous to buildings. Termites that do eat wood get their sugar, starches, and cellulose from the timber and sapwood from trees and buildings.
Read More: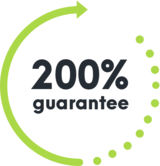 WE'RE NOT HAPPY UNLESS YOU'RE HAPPY
SEE HOW IT WORKS
With Competitive Pest Control Services you'll never have to worry about paying for a job that hasn't been done.

If you're not satisfied with our services, we'll not only give you your money back, we'll return it to you twofold. That's right: you'll not only receive a full refund, we'll also pay to have your pest problem sorted by our competition.*

We're always trying to raise the standard of service, it's one of the reasons we were name Australian Pest Manager of the Year four times in the past six years. When you employ our services, you know your pest problem will soon be a distant memory. What could be more satisfying than that?

*Please contact us to hear more about our 200% Money Back Guarantee - as due to issues sometimes outside our control, not all services may be covered by this offer.
Talk to us about pest control for your home or business