Competitive Recommends Conducting A Termite Inspection Before Putting Your House On The Market
---
There is nothing worse than putting your home on the market, only to find that when a prospective buyer conducts their Pest Inspection that your home is infested with termites.
Putting your home on the market can be a time of mixed emotions. Ensure the balance of emotions is tipped to the positive, by arranging for your home to be inspected for termites before you put your house on the market. Competitive periodically receives calls from clients that have not taken this essential step when selling their home, and they are then placed in a situation of a reduced sale, or potential buyers running scared. We have currently found that it is not only pest control companies, but also real estate agents now recommending their clients to conduct a termite inspection prior to listing.
Benefits Of A Termite Inspection
The benefit of conducting a termite inspection before listing ensures that if there is a termite issue on your property, you can then arrange to treat the termites and postpone the sale. Whilst not ideal, it is a preferred option over halting the sales process.
Competitive Pest Control has highly trained and experienced inspectors in Sydney and Brisbane/Gold Coast to conduct your inspection. Your eight-page report will then be completed on the day to Australian Standard 3660. A termite inspection on an average sized home is approximately $250, and we believe, a small cost to consider.
To discuss any information in this article, please do not hesitate to conduct one of our Customer Care Executives on 1300 395 769.
Competitive Pest Control specializes in domestic and commercial pest control. Competitive Pest Control has highly trained staff who personally assess pest infestations and advise on safe and effective forms of treatment.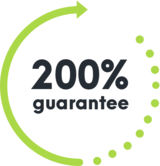 WE'RE NOT HAPPY UNLESS YOU'RE HAPPY
SEE HOW IT WORKS
With Competitive Pest Control Services you'll never have to worry about paying for a job that hasn't been done.

If you're not satisfied with our services, we'll not only give you your money back, we'll return it to you twofold. That's right: you'll not only receive a full refund, we'll also pay to have your pest problem sorted by our competition.*

We're always trying to raise the standard of service, it's one of the reasons we were name Australian Pest Manager of the Year four times in the past six years. When you employ our services, you know your pest problem will soon be a distant memory. What could be more satisfying than that?

*Please contact us to hear more about our 200% Money Back Guarantee - as due to issues sometimes outside our control, not all services may be covered by this offer.
Talk to us about pest control for your home or business