Competitive Pest Control releases world-first Spider Bite iPhone app
---
Innovative Sydney-based pest control company Competitive Pest Control has just released the Spider Bite app, a smartphone app to assist clients in identifying household and backyard pests as summer reaches its peak. The brand new Spider Bite app is available free of charge and is useful for parents, teachers, home owners, gardeners, and those travelling around Australia – basically, anyone who spends time outdoors.
Company director Gary Journeaux says the app was developed primarily as a safety tool. "The beauty of the Australian climate is that our backyards become an extension of our living space in that we tend to live outdoors in the warmer months," he says. "However, since spiders love our gardens as much as we do, it's important to be aware of them to keep the family safe."
Journeaux says the app includes images and descriptions of spiders, insects and other pests that allow users to quickly identify potential threats in and around the home. Better yet, if an incident occurs, the app quickly dispenses first aid advice so users can immediately take action, which is of crucial importance when children are involved. "Once downloaded, the app ensures parents are armed with information, so if their child does encounter a creepy-crawly, the threat can be easily assessed, without having to consult Google or search frantically for that long-lost spider chart," says Journeaux.
Cleverly, the app allows you to call 000 directly, so precious seconds aren't wasted in the event of an emergency. It also links directly to your smartphone's camera, so you can instantly snap a photo of the spider to assist hospital staff in identification, while allowing the treatment to be tailored to the species of spider.
Additionally, if you're concerned about pests in and around your home, you can also call Competitive Pest Control directly from the app, making it a cinch to arrange a consultation. Competitive Pest Control offers its customers a 200% money-back guarantee, so if a client is not satisfied with its services, the company won't just give their money back, they'll pay for the pest problem to be solved by the competition. "Customer satisfaction is enormously important to us, and we're confident our clients will be completely happy with what we do, or they will receive their money back twofold. Either way, they win."
Fast Facts: Competitive Pest Control's Spider Bite app
The Competitive Pest Control Spider Bite app is the only one of its kind in the world – and can be downloaded free of charge.
Images and detailed descriptions of common Australian garden spiders allow users to quickly and accurately identify and address potential threats to their family's safety before an incident occurs.
Detailed descriptions of bite signs and symptoms allow a spider bite to be identified and rapidly treated.
The app links directly to emergency services and Competitive Pest Control customer service phone numbers, dramatically reducing response times in the event of an emergency.
The app connects to your phone camera to allow instant photo capture of spiders or household pests.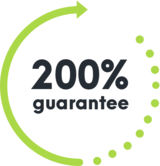 WE'RE NOT HAPPY UNLESS YOU'RE HAPPY
SEE HOW IT WORKS
With Competitive Pest Control Services you'll never have to worry about paying for a job that hasn't been done.

If you're not satisfied with our services, we'll not only give you your money back, we'll return it to you twofold. That's right: you'll not only receive a full refund, we'll also pay to have your pest problem sorted by our competition.*

We're always trying to raise the standard of service, it's one of the reasons we were name Australian Pest Manager of the Year four times in the past six years. When you employ our services, you know your pest problem will soon be a distant memory. What could be more satisfying than that?

*Please contact us to hear more about our 200% Money Back Guarantee - as due to issues sometimes outside our control, not all services may be covered by this offer.
Talk to us about pest control for your home or business