Dealing with Fleas Naturally
---
Dealing with fleas is part of being a pet owner. However, there are natural ways to combat them and keep toxic chemicals out of the home, explained Living Green magazine.
How to Get Rid of Fleas Naturally?
Some flea and tick treatments contain the toxic chemicals tetrachlorvinphos and propoxur which are particularly dangerous to young children who spend a lot of time embracing and stroking their pets.
Instead of resorting to chemicals, people should first make sure they keep their pets indoors and thoroughly comb and vacuum to remove fleas and their eggs.
Spot treatments of medicine can be applied in moderation as long as they don't contain tetrachlorvinphos or propoxur.
Pet bedding should be washed thoroughly in hot water with soap. Natural products using lemongrass, peppermint or thyme should also be tried.
Grass and other shrubbery where the pet spends time should be trimmed to increase its exposure to sunlight and make it drier. This can naturally inhibit flea populations.
Source: http://livinggreenmag.com/2013/08/14/home-garden/a-natural-approach-to-flea-and-tick-control-keeps-toxins-away-from-pets-and-children/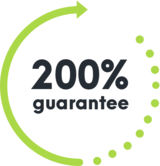 WE'RE NOT HAPPY UNLESS YOU'RE HAPPY
SEE HOW IT WORKS
With Competitive Pest Control Services you'll never have to worry about paying for a job that hasn't been done.

If you're not satisfied with our services, we'll not only give you your money back, we'll return it to you twofold. That's right: you'll not only receive a full refund, we'll also pay to have your pest problem sorted by our competition.*

We're always trying to raise the standard of service, it's one of the reasons we were name Australian Pest Manager of the Year four times in the past six years. When you employ our services, you know your pest problem will soon be a distant memory. What could be more satisfying than that?

*Please contact us to hear more about our 200% Money Back Guarantee - as due to issues sometimes outside our control, not all services may be covered by this offer.
Talk to us about pest control for your home or business