Londoners Snack on Pests at 'Pestaurant'
---
Londoners have snacked on ants, pigeon and worms as part of a pop up insect restaurant.
The restaurant was created by Rentokil to celebrate 85 years in the pest control business.
Brave diners were given the chance to eat pigeon and sweet chili burgers, salt and vinegar crickets and worms with barbeque sauce.
The food was free – although not all diners had a pleasant experience.
A nine year old boy ate around ten worms at once and then ran off to vomit. He said he liked them but just tried to eat too many at once.
The UN has recently advocated the consumption of insects as a way to deal with growing populations and future food shortages.
Many insects are high in protein and essential minerals while containing very little fat. Pigeons are also well regarded in fine dining and feature in a range of acclaimed restaurants around the world.
Source: http://www.couriermail.com.au/lifestyle/food/hardy-londoners-sample-food-at-pestaurant/story-fnihowt4-1226698111312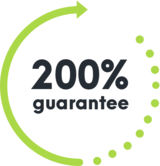 WE'RE NOT HAPPY UNLESS YOU'RE HAPPY
SEE HOW IT WORKS
With Competitive Pest Control Services you'll never have to worry about paying for a job that hasn't been done.

If you're not satisfied with our services, we'll not only give you your money back, we'll return it to you twofold. That's right: you'll not only receive a full refund, we'll also pay to have your pest problem sorted by our competition.*

We're always trying to raise the standard of service, it's one of the reasons we were name Australian Pest Manager of the Year four times in the past six years. When you employ our services, you know your pest problem will soon be a distant memory. What could be more satisfying than that?

*Please contact us to hear more about our 200% Money Back Guarantee - as due to issues sometimes outside our control, not all services may be covered by this offer.
Talk to us about pest control for your home or business