Tips to Keep the Garden Free of Pests
---
How to keep Pests out of garden?
There are a range of steps people should take to control garden pests, depending on what animal or insect in particular is responsible.
Mosquitoes
There are many animals such as frogs and toads that enjoy eating mosquitoes. These creatures should be nurtured and protected as much as possible.
Mosquitoes gestate in still water, so bodies of standing water should be removed or replenished regularly. For example, birdbaths should be replaced around once a week.
You can also utilise waterfalls or fountains to replace still water in order to inhibit mosquito larvae.
Ants
Cucumber peels placed greenside down can help deter ants – they hate its bitter taste!
Rabbits
Crops should be protected with fencing at least a metre high and six inches deep.
A homemade mixture of blood meal, pepper, some hair, rotten eggs and water can also be sprayed near crops to deter them.
Wasps
Wasp traps should be filled with bait made up of fruit juice and water. Fake wasp nests can also help deter new populations from settling in.
Source: http://www.windsorstar.com/Some+tips+keep+garden+pests+away/8829340/story.html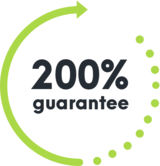 WE'RE NOT HAPPY UNLESS YOU'RE HAPPY
SEE HOW IT WORKS
With Competitive Pest Control Services you'll never have to worry about paying for a job that hasn't been done.

If you're not satisfied with our services, we'll not only give you your money back, we'll return it to you twofold. That's right: you'll not only receive a full refund, we'll also pay to have your pest problem sorted by our competition.*

We're always trying to raise the standard of service, it's one of the reasons we were name Australian Pest Manager of the Year four times in the past six years. When you employ our services, you know your pest problem will soon be a distant memory. What could be more satisfying than that?

*Please contact us to hear more about our 200% Money Back Guarantee - as due to issues sometimes outside our control, not all services may be covered by this offer.
Talk to us about pest control for your home or business