One Tech, One Child initiative with The Cambodian Children's Fund
---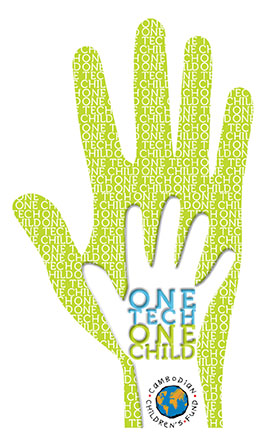 Competitive Pest Services has partnered with the Cambodian Children's Fund to raise awareness and support for this worthy charity. The One Tech, One Child initiative is simple – for every new technician that joins CPS, the company will commit to sponsoring another child through CCF. Your support to CPS will help lift whole families out of poverty.
Why Cambodia?
Competitive Pest Services' General Manager, Gary Journeaux, had this to say: "I was fortunate enough to be able to visit Cambodia for three weeks in 2012 to build houses for the Tabitha Foundation – a recipient of Competitive Pest Services' donations. It was during this build that one of the other builders told me about New Hope for Cambodian Children. NHCC is an organisation for children infected with HIV, and what the founders John and Kathy Tucker have achieved there is remarkable. Bill Clinton actually  visited there in 2006. I extended my trip and volunteered there for a week. I would highly encourage everyone to spend a week here, and if it doesn't change your life (like it did mine), it will remind you about what is really important in life. Cambodia is a Buddhist country, and it is believed by many there that if you are born with HIV, you must have done some bad things in your past life. These children just want a whole lot of hugs and love, and to be treated the same as anyone else. Kathy and John are always looking for more sponsors"
More details can be found at www.newhopeforcambodianchildren.com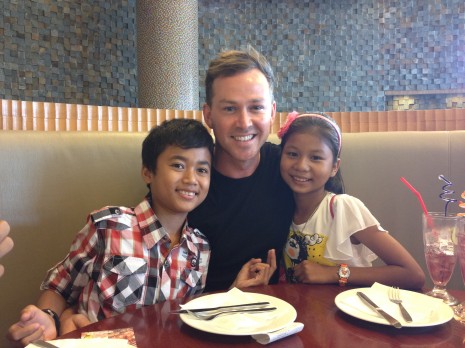 Gary Journeaux goes on to say "Also on the house build, I came to know about the Cambodian Children's Fund. This is an organisation that was started by an Australian Scott Neeson. Scott visited Cambodia about six years ago, and was so moved by children scavenging on the Phnom Penh rubbish tip, that he sold all his possessions and moved to Cambodia to start an organisation. Families would live on the Samcheong Province tip, and then would scavenge the tip for food or things they could exchange for food. Cambodian Children's Fund has offered the children of these families a home and education. "
More details can be found at www.ccf-australia.org
Cambodian Children's Fund
Founded in 2004, Cambodian Children's Fund provides life-changing education, nourishment and healing to vulnerable children from some of Cambodia's most destitute communities. In the beginning, our world revolved around the health and well-being of 87 youngsters. Today we care for more than 1,800 students and 10,000 people annually after extending our services to provide to entire families and communities in crisis.
CCF was founded by former film executive Scott Neeson, who traveled to Cambodia on holiday in early 2003 and found his life changed by the desperate circumstances and unlikely courage of Phnom Penh's most impoverished children.Today he serves as CCF's Executive Director, performing daily fieldwork and overseeing the operations of CCF's various facilities.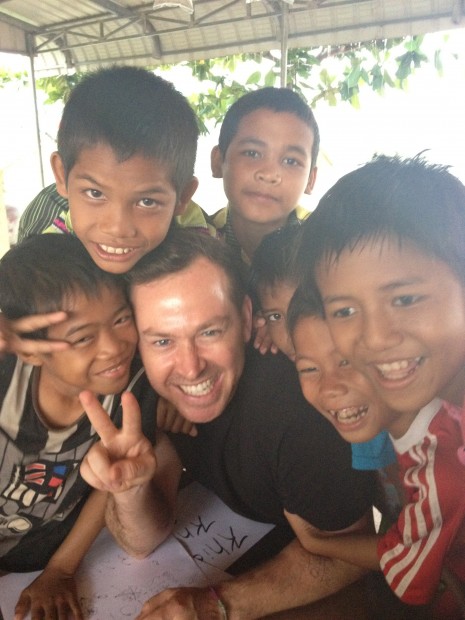 CCF Profiles
Yaroth and Piseth
Dearest Gary,
How have you been keeping?  I hope that things are going on very well and smoothly with you there. Let me introduce myself:  I am Piseth, CCF mail translator. Today, I am really delighted that I am able to write this long email and tell you in a little bit more detail about your sponsored child Yaroth. I will tell you about his family as well as how he came to be at CCF, and I do hope that you will get to know more about him and share this with your family, too. And this is his story:
Born to a vulnerable family in Steung Meanchey, the former dump heap of the city, Yaroth is the youngest child of his family. His full name is Kim Yaroth. Kim is his family name, so you can call him Yaroth – his Christian name. He will turn 2 years old soon as he was born on 18th November 2011. There are a total of 5 members in his family: his parents, two sisters and Yaroth himself, and presently, they live their lives in a small shack on a tiny plot of rented land near one of CCF's satellite schools. To deal with their daily expenses, his mother works as a childcare employee for CCF while his dad works as a cleaner for a private company.
Going back a little to the past, Yaroth's parents were formerly people from Svay Rieng province near the border of Cambodia-Vietnam. Living in the province, they shared a house with Yaroth's grandparents after they got married and worked as farmhands in order to make a living. They didn't have any plots of farmland of their own, so they spent most of their income on rice. They always faced a lot of troubles since their income always came to less than their expenses; Moreover, growing season lasted only for only a period of time which meant that they became jobless for the rest of the year.  To have enough for the family to eat, his parents decided to travel to work to the sugar cane fields in Vietnam. They both had to get up early and leave home in order to get to work and usually returned home late in the evening. They both tried very hard to work, but their income was never sufficient for their expenses at all.
After hearing from many of their neighbors of the scavenging work in the city, his father himself came to Phnom Penh with their neighbours and began scavenging for recyclable garbage on the dump heap. He could earn at least enough for his daily expenses, and when he found a shack to live in, he decided to bring his whole family to the city. At that time, Yaroth's father and mother went out scavenging from dawn till dusk and they also had to take their daughters with them as there was nobody to take care of them at home. Sadly, after giving birth to Yaroth in 2011, his mother fell sick and couldn't go out scavenging anymore, so his father became the breadwinner in the family. Unfortunately, his father alone couldn't bring in enough money for proper meals for his family at all and they had to spend much money on Mondol's mother's medical treatments.
Things turned from bad to worse, when Yaroth's father stopped supporting the family and spent the money he earned for his own benefits. Yaroth's mother had to take the children to the dump heap to hunt for recyclable trash whenever she felt able. This family faced a lot of hardship and never had enough to eat at all. Yaroth's oldest sister was unable to attend school either due to their meagre income
Fortunately, their hard lives changed for the better day by day when Yaroth's mother got to know about CCF from their neighbours. When she heard the fact that CCF provides not only good education but also a warm environment and care to poor kids, she took her children to CCF to ask for the learning opportunity of her daughters; however, it was not successful yet. Later, she met Scott when he went out to the community on one of his evening walks. Seeing their hardship, Scott gave his mother a voucher and suggested she take her children to CCF again. Happily, on 30th July 2013, Yaroth's oldest sister was accepted into the Satellite Program where, in addition, she can attend public school to receive formal education. Later, she met Scott again when she took Yaroth to CCF's clinic to receive medical treatment when he was sick. Seeing that Yaroth was unhealthy and suffered from malnutrition, Scott, once again, gave this little boy a place in the Nursery center, where he now receives nutritious meals to eat and he can stay in a warm and loving environment with great care from our nannies.  His mother was on top of the world to receive this priceless support from CCF. More happily than this, she herself was also accepted to work as a childcare employee at the nursery centre, where she could have more time looking after her little son. Now, Mondol is getting a lot better and he is always provided with proper meals and clothes and he and his mother also benefit from CCF's health clinic.
And that comes to the end of his life story for now. I hope that you feel you know Yaroth and his family a little better after reading through this story. If there is anything further you would like to know about him and his family, please do not hesitate to let me know. I will try as hard as I can to help you. Right now, I am attaching some photos of your boy for you to see. I hope you enjoy seeing them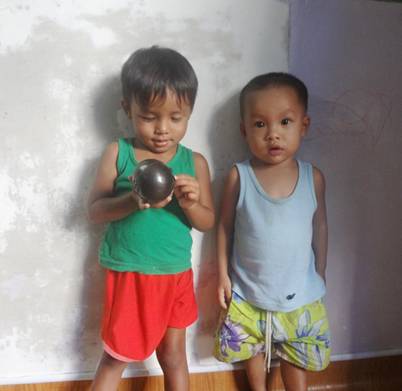 "It's Yaroth and his friend!"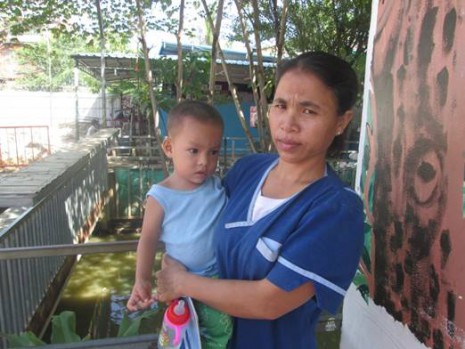 "Yaroth and his mum!"
Last but not the least, I would like to take this opportunity to say Many Thanks, on behalf of Yaroth's family, for your kind heart in sponsoring him. Your physical and financial support do make a big difference to his life. Also, thank you for being a key part of CCF in helping poor children in Cambodia.
That's all for now. Yaroth and I send you our love and we hope to hear about you and your family soon.
Have a wonderful day!
Sweet Love,
Yaroth and Piseth
Rotha
Dearest Gary,
It has been such a wonderful day for me.  I went to the mail translator's office with my mother and younger sister after we received a call from one of the staff members.  I was so excited to hear about the call and the wonder of it all! Now, I am so excited knowing that you are my sponsor. I didn't even understand what a 'sponsor' was at all but I do today. Gary, my family and I are really grateful for your kind sponsorship. I am trying to memorize your name because it's so important for me. To let you know me a little better, I think I will tell you about my background in detail here.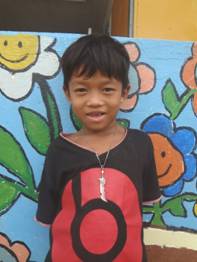 As I know only a little English I cannot write on my own yet so I need my mail translator to help me with my stories to you, and to help me read yours to me – this way we can really get to know one another.
To begin this, I would like to tell you about my life from the past till the present.
First of all, my name is Choun Rotha. Rotha is my given name and Choun is my family name. I am 7 years old now as I was born on 6 June, 2006. My family is made up of 4 people: my parents, one younger sister, and me, so I am the first child in the family. To feed us, my parents have been working as garbage scavengers.We have been living on rented land in Steung Meanchey, a slum area in Phnom Penh, where my parents built a small shack. This land is rented by Papa Scott, from the landowner.  Papa Scott then subsidizes this to the poor families just like mine and we help him with paying some fee as well.
Now I will tell you a little about my family's past: my mother is originally from Kampong Cham province while my father is from Phnom Penh. My mother used to work as a garment factory worker when her parents passed away. As my mother became an orphan she decided to move and live with her aunt. In living with her auntie, she shared her income to help pay for the rental of the room and food. However, my mother quit the job at the factory because of her weak health as she could not handle the workload there. So later on, she decided to work as a garbage scavenger to earn a living on her own. Finally, my mother met my father who also searched for recyclable garbage at the dumpsite, and they got married after they knew each other for several months. After their marriage, and having my sister and I, my parents rented a small room and tried to earn their living together. Their tiny income was never enough to support the family so they could not provide us with good food, let alone good care and a chance to study. I was told by my mother that while she was pregnant with me, she continued hunting the recyclable garbage with my father until the month I was born. This also happened with my younger sister. Sometimes, when my parents went out to work, they would leaveme and my younger sister with our aunty to look after us.  However, when I was around 4 years old my parents took me along with them to the dumpsite. They left me to sleep on a net in a small hut nearby the dumpsite because they didn't want to put more burden on my aunty.
One of my happier days was when Papa Scott went to the dumpsite and saw my family there. He saw me sleeping in the net and he took my picture; then he told my mother about the opportunity he could give me to study atCCF which made my mother so happy to hear. As a result of my family's poor living conditions, Papa Scott wrote a voucher for my mother to take me to have an interview at CCFCC (CCF-Community Center). Soon after the interview with CCF staff, I was accepted on 7 October, 2011. My family was delighted to get this chance and be a part of CCF's family.  Since then I have been provided with loving care, nutritious foodand study materials. What is more, my family and I also get healthcare service from CCF's clinic. Also, CCF is going to enroll me into the local public school, in addition to study English and computer at CCF classes, next academic year.  Currently, I am one of the Satellite students because I have been moved from my previous program and now I can study English at a higher level than in the Daycare program. I enjoy learning and playing with my friends here a lotJ. In the future, I wish to be a policeman as I want to earn money to support my family and protect other people.
Here are some more photos of me for you enjoy, so I hope you like seeing them.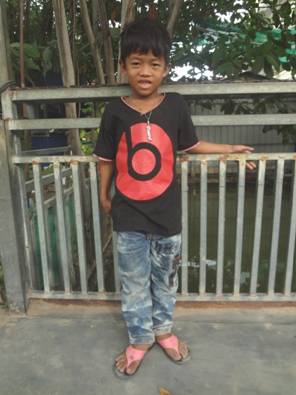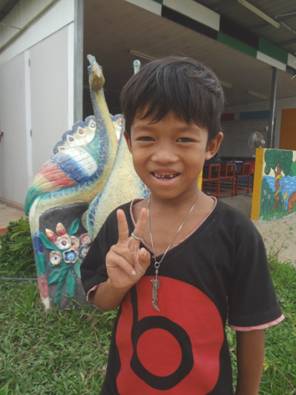 Many thanks for your kind sponsoring!!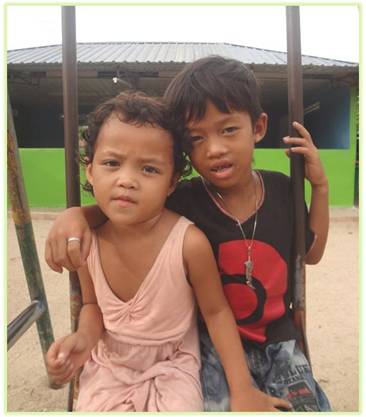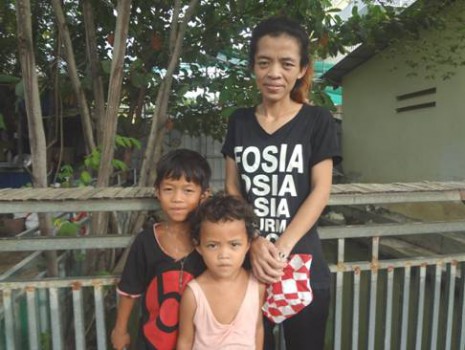 These are pictures of my sister and mother.
Gary, I hope you feel you know me better after reading through my life story and if you have any questions to ask me, please feel free to let me know and I will be glad to answer you as much as I can. Anyway, I hope you don't mind me if I ask you some questions. Where do you live? And, what is your job?  Do you have pets; do you have a sister like me?
Lastly, I wish you good luck and happiness all the time.
Best love,
Rotha
Sokum
Dear Gary,
How are you? I hope everything is fine for you. Today following a phone call from CCF Community Center, my mother told me to go there. I was wondering what happened as it was not time for me to have class yet. When I arrived, I was delighted to be told that I now have a sponsor. I usually hear from my classmates that they write and receive letters from their sponsors. I always wanted to be like them too and have that same experience. And now, I can do it today as I have you! I am really excited and THANK YOU very much for choosing me. Because I cannot write to you in English myself yet, CCF's mail translator here will help me with all my incoming and outgoing emails, so we can communicate easily.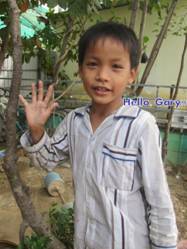 First let me start with my name. I am Reun Sokum where Reun is my family name and Sokum is my given name. I was born on February 04, 2004 in Kampong Cham province. Now I live with my family in a rented room in the Steung Meanchey area, the former dumpsite of the city. There are 6 people in my family: my parents, my elder sister, and two little sisters, thus I am the second child.
Back to our hometown: my father was a motorbike taxi driver while my mother sold some vegetables. With an old bicycle, she placed her goods in a bamboo basket behind and tried to find the customers. My mother worked so hard even when she was pregnant with my younger sister. Sadly, our living with my father's side of the business was not good- they often had problems. Finally, my parents decided to leave there for Phnom Penh City. Once we arrived there, my parents rented a small room and started seeking for a job to make a living. My father initially remained as a motorbike taxi driver and mother worked as a security guard in a garment factory. However they could earn only just enough to spend on basic needs like, rent fee and daily food. It will be hard for us if any member get sick.
As there was no parent to care for the children, my mother had to quit her job and stay at home. My father sweated blood until he could save up some little money and buy tools to run a small business. He is now a motorbike repairer. My mother nowadays looks after the family and helps my father with his daily business.
My mother heard of CCF from a neighbour whose daughter is learning in CCF. First she took my elder sister there and they were interviewed. Happily, my sister passed and was allowed to study here. Later on, she asked for a schooling chance for me too. After a while, I was told that I was accepted into CCF's Satellite School program. That good news came to me on January 08, 2010.
Here, I study English and computer. Another happy piece of information is that CCF also sends me to a primary school where I am in grade 3. I have lots of friends and I get healthcare service, school uniform, backpack, books, pens, pencils, rubber and ruler from CCF. These things are very valuable for me and my family. Oh, I almost forget to tell you one thing. I wish to be a doctor when I grow up…And now do you want to see what I look like? I hope you do. Here are some photos for you in this first email: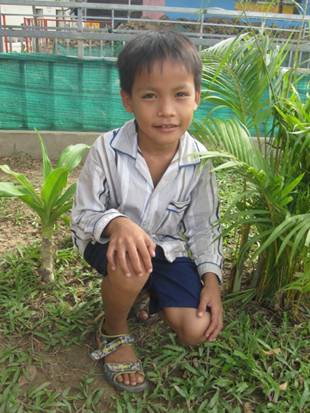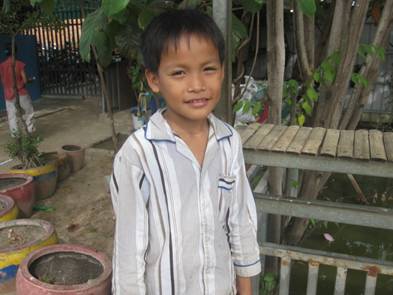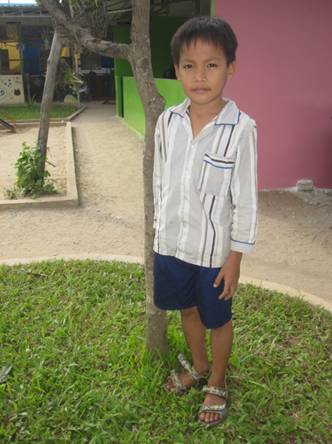 Gary, I have some questions to ask you. I hope you don't mind me. Where are you living? What is your favourite color and food? How many people in your family? I want to see your pictures so much- can you send me a few? I hope to hear back from you soon. I wish you good luck!!!
Love,
Sokum
It's another lovely day to write to you again after we already talked through some emails. Today you will get to know more about me, especially the life I have been through. To help you understand what I want to tell you, a mail translator here will put my words for you into English and when you write back, she will translate it into Khmer for me too.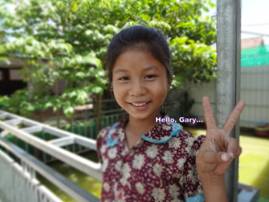 Can I tell you my name again? I hope you love me to do it. I am Sok Rany and everyone calls me Rany- the way you do, too. My birthday was on April 18th, 2000 and I grew up in Phnom Penh City. There are 7 people in my family: my parents, my little brother, uncle, grandmother, two cousins and me. We all live in a small wooden hut located in the Steung Meanchey area, near the old city dump site.
Before, my mother worked in a factory and my father was a construction worker. My parents often had problems so they lived separately for a while. Without my father, my beloved mother worked very hard to make a living. When my mother got off from her work, which paid her too little to live on, she and I went to pick up garbage. With a cart, we walked along the streets and throughout market sites. My mother never forced me to that tiring job, but I really wanted to help her. Fortunately, my father came back home and the relation in my family is getting better now. My mom has changed her job too and now sells used clothes and my father keeps doing his work on building sites. His job is not steady and very low paid. He sometimes has to go away from home for weeks to work on any site he can find. Even though we lived in a poor family where the daily expenses were always larger than my parents' incomes, they were able to send me to school. I finished grade 4 at a local primary school. But I did not have a chance to get some extra courses, especially English, the subject in my dream or study properly because our life was so hard.
As usual, papa Scott visited the village where I live. He met me and found out how hard the situations in my family were. He told my mother she could bring me to the CCF Community Centre for an interview. My mother and I were asked a lot of questions about our family. Later on, I was told that I passed the interview so I was allowed to sit in CCF's Satellite school. My first day was on July 7th, 2011. I was really happy with such a great chance. At CCF, I study English and computer, my favorite subjects. CCF also helps me with other support, such as my study materials, school uniform, bread and even health care. All this really helps with my study. My school life is getting better and now I have qualified to be placed in grade 6 when the new academic year comes. I wish to be a Khmer or English teacher one day.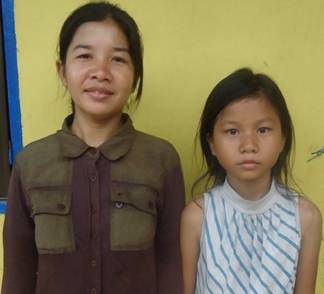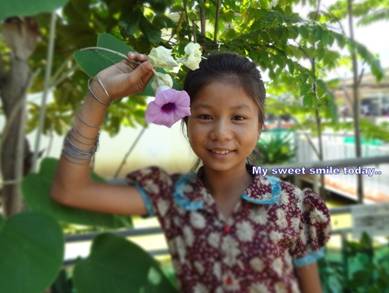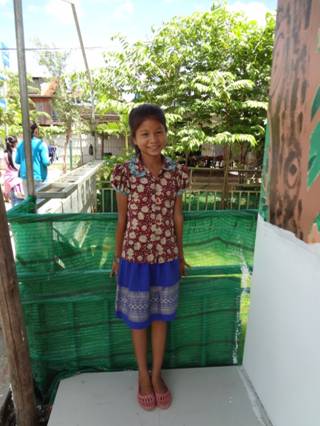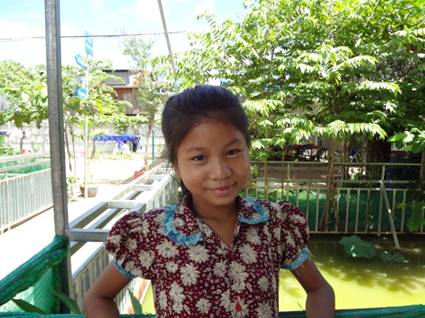 We have already met and you got some pictures of our day out trip too. Today I want to put more photos for you and I hope you love seeing them. The first shot was done with my mother when we came for the interview at CCFCC.
Again, I want to say Thank You very much for sponsoring me. You are so kind to help me and my family. I hope you loved reading my email today. I am sending you a ton of love…
Big Hugs,
Rany
Kosal
My beloved Gary,
Today I am very happy to write you another longer email to tell you more about my life and my family. To do this I need a mail translator to help me. She will put my words in English so that you can read my life story easily.
I am sure you know my name clearly but I want to tell you again. My name is Ven Kosal and my given name is Kosal, the one you usually use in your emails. I was born on August 10, 2000 in Takeo Province. I have a half elder sister, a half elder brother and a little sister. I came 3rd in my family. My family lives in a small rented room in the Steung Meanchey area, the former dumpsite of Phnom Penh City.
Back in our hometown, my parents were famers and sometimes my father worked on building sites. They worked so hard but our lives were always very difficult so my family decided to come to live in Phnom Penh city to try to make things better. Once in the city, they rented a hut and started to look for work. They found jobs as construction workers. This kind of work is not paid well so they changed again so that my father became a motorbike taxi driver and my mother has sold some meat at a market. But she does not have a proper store to do her very small business. I pity my mother a lot as she is weak and she has to earn money to keep the family alive.
I used to pick up garbage around the place where I live. I looked for anything I could resell. But my tiring job could not make life any better for my family. It only brought in the price of  some snacks.  I seldom had good food to eat or nice clothes to wear. Even though we lived in very hard conditions, my parents' kind hearts enabled them to send me to a primary school.
One day my mother got to know about CCF from our neighbor. She hurried to bring me here and asked for a chance for me to study here. What a happy day! I passed and was accepted as one of CCF students. I started my study here on 20th August 2009. My parents and I were so happy with this. Later, I was moved onto the CCF External Education program on 30th May 2011. At CCF, I study English and computer. I get other supports from CCF too – they are study materials, school uniform, bread and health care. First I wanted to work in a bank, but now I want to be a teacher of English – perhaps this is because I see my teacher at CCF!
Today I will put in more some pictures for you. The first one was taken with my mother when we came for the interview. The rest are my sweet smiles with hope after I get help from CCF and you, my beloved Gary.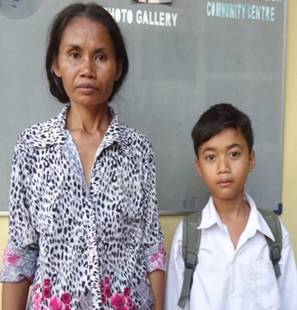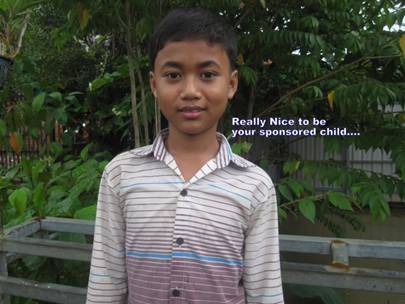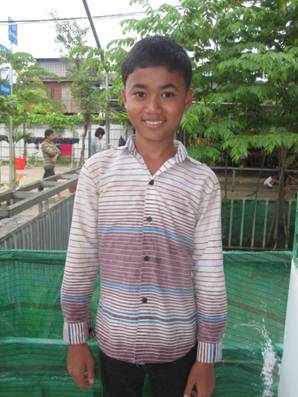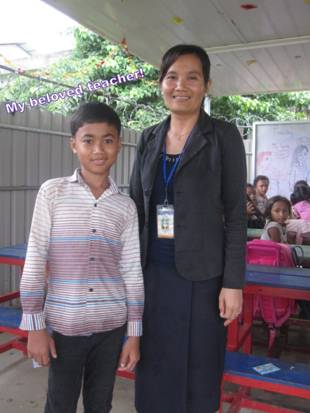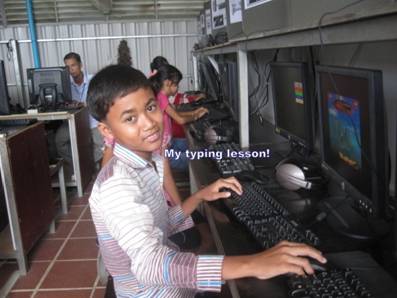 Thanks Gary for reading my life story from the beginning. I want to tell you that I am so lucky to be your sponsored child. Your help means a lot to me and my family. I hope that our communication will be better and better. I love YOU!
Very Big Hugs,
Kosal
Bopha
Dearest Min and Gary,
How are you doing on these days? I hope this email finds you very well. Here I am fine. Today I am pleased to write you another email and tell you all about myself as I promised in my previous email. This email will tell you all about my life before and after I became a CCF child and I hope that you will know me better than before. But to do this, I need the help from my mail translator who will help to put my words to you. Now let me start telling you about my life.
Again, my name is Phea Bopha. Phea is my family name and Bopha is my given name. Everyone calls me Bopha and you can also. I am a girl who was born in a poor family that made up of 4 people, my parents, my older brother and me. I am the youngest child in the family. I was born on 08th January, 2008 in Steung Meanchey Community, Phnom Penh City,so now I am a 5 years old. Presently, my family and I live in a rented room in Steung Mean Chey, previously the main rubbish dump site of Phnom Penh City.
Going back a little, my mother told me that she is a villager from Takeo province and my father is from SvayReang province. They got married in 2002 and worked as farmers. A few months after their wedding, they moved to live in Phnom Penh where my mother worked as garment factory worker and my father works as construction worker. My parents tried to work hard every day to make living for the family but their income was not enough to support the family's needs. In 2007, my mother was pregnant with me and stopped working at factory because she was too weak to work there. While my mother stayed at home, she sold fried banana in front of the house but she could only earn a little money from this work. So then, she stopped that job and started to scavenge the garbage which she at least earned a little money every day and sometimes my older brother went with her to scavenging. They would collect recyclable scraps from the dump and re-sell them. The hardship happened in my family when my mother gave birth to me and could not work anymore. So my father is the sole breadwinner in the family and earns a very low wage.
One day, my mother got to know about CCF,the place that provides education to impoverished children without charging money, from her neighbor. So my mother came to CCF and asked CCF staff to enroll my older brother to study but their first interview was unsuccessful. Later on, my mother and my older brother met Scott at the CCFCC in the evening of delivering soup. Again, my older brother asked Scott to study at CCF. Then Scott gave a voucher to my mother and told her to bring my older brother for interview. Because of my family situation, my brother was then accepted into CCF.
For me, I am 5 years old now but I will turn to 6 years old on 8th of January. I really want to go to school and have many friends just like other children have. I want to be a nurse when I grow up.
For me, my mother and I met Scott when he was at our village one evening. At that time, I asked Scott to study at CCF. Then Scott told my mother bring me to CCF and get interview. Then our interview passed and I was accepted into External Education Program (EE). So now I study English and computer at CCF SambokChab Satellite School. Here I have many friends and I enjoy with my class very much. CCF also provides soup, bread and rice, some study materials and uniform to me. I love CCF.
Now my mother get a job as a tailor at home and my father still work the same job as a construction worker. My parents have believed that CCF will provide a better life for me and my older brother.
Gary and Min, these all are about my life. How do you feel after read this email? If you have any question about me, please let me know. I am pleased to answer all of your questions.
Here are few photos of me. Please enjoy seeing them.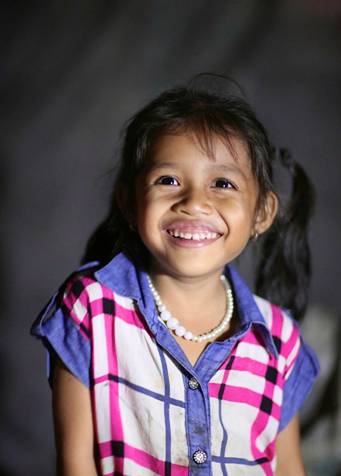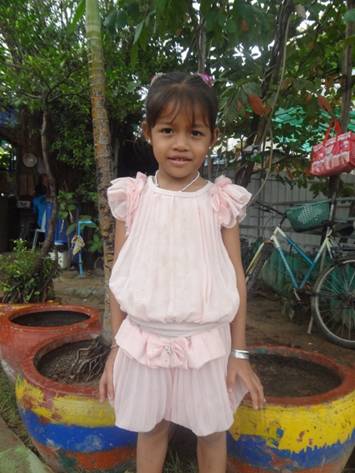 Here is a picture of me that my mother asked Pa Scott to take!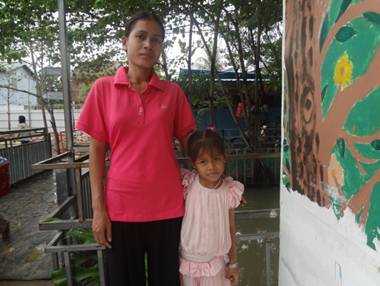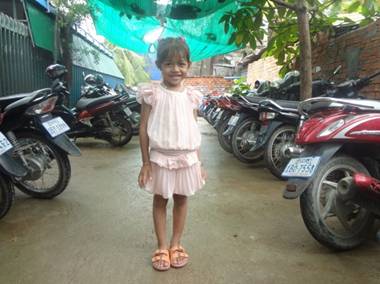 My mother and Me
My dearest Gary and Min, thank you so much for your generosity and love to me and my family.  Your support will make my life brightly.
Love You,
Bopha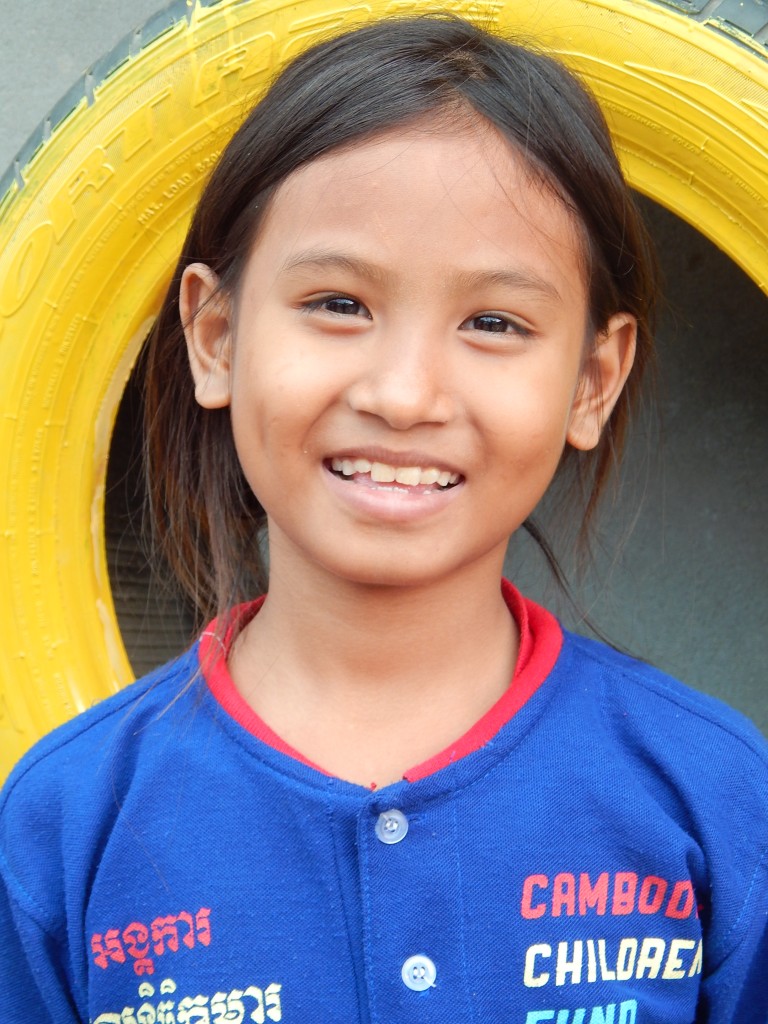 Tepy
My name is Tepy. I was born on October 9, 2005 to a family of 7: my parents, me, two younger brothers and two younger sisters. Well, I had one brother who died when I was two years old. I don't remember much about him but my parents mentioned him to me. At the moment, I live in CCF shelter 2 at Steung Meanchey, the major area used to be the dumpsite of Phnom Penh.
Now it is time for me to tell you about my family background. I am sorry that I could not remember much because I was young. But I will try my best to tell you what I know. Previously, I lived with my family in a small rented room at Steung Meanchey. My room was small and not comfortable.  To make a living, my parents worked as scavengers. Every day they went to the dump which was not far away from our home for their garbage hunting. They worked hard from morning till evening to try to provide for the whole family. Once in a while, they took me to dump with them. My job was to watch over the garbage they picked up. When I was hungry, I asked my mom to buy dessert they sold at the dump to eat. I didn't go to school because I hadn't reach my schooling age.
However luck smiled upon me when Papa Scott met my mother and I in the village. He agreed and I was accepted not only to CCF program but also to stay full time in the shelter. This greatest day was on January 22, 2009.I am happy to live in CCF. Here I have a lot of friends. They never tell me where they come from but I think they are from different provinces in Cambodia. In CCF school, I study two subjects: English and computer. I enjoy studying computer more than English. CCF also provides me uniforms, toothbrush, three meals to eat every day, and a comfortable place to play and sleep. My life is getting better here. Receiving these supports make me so happy, but what makes me even happier was CCF enrolled me to Steung Meanchey Primary School where now I am in grade three. I use CCF's school bus to go and come back there every day. I am so excited to get this opportunity.  I don't know what I want to be when I grow up yet but I will tell you when I know it.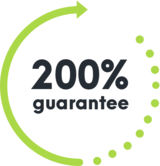 WE'RE NOT HAPPY UNLESS YOU'RE HAPPY
SEE HOW IT WORKS
With Competitive Pest Control Services you'll never have to worry about paying for a job that hasn't been done.

If you're not satisfied with our services, we'll not only give you your money back, we'll return it to you twofold. That's right: you'll not only receive a full refund, we'll also pay to have your pest problem sorted by our competition.*

We're always trying to raise the standard of service, it's one of the reasons we were name Australian Pest Manager of the Year four times in the past six years. When you employ our services, you know your pest problem will soon be a distant memory. What could be more satisfying than that?

*Please contact us to hear more about our 200% Money Back Guarantee - as due to issues sometimes outside our control, not all services may be covered by this offer.
Talk to us about pest control for your home or business