Different Personalities of Cockroaches Lead to Evolutionary Success
---
When studying the way cockroaches act out in the open, scientists have concluded that they are not all the same, but have different personality types, reports The Guardian. This new study gives clues to the evolutionary success of these "gregarious insects".
The two characteristics were classified as "shy or cautious" and "bold or explorers". Cockroaches classified as shy kept hidden as much as possible and seek the safety of shelter when out in the open. The bold cockroaches were a lot more adventurous and were more keen on exploring their surroundings.
Different personalities are believed to help the survival, since when disaster strikes, the different personality types drives different behaviour. This increases the chances of at least some of the some of the species surviving. In the wild, the adventurous cockroaches have a better chance of finding food, while also a higher chance of being preyed on.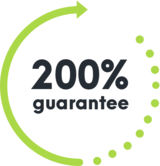 WE'RE NOT HAPPY UNLESS YOU'RE HAPPY
SEE HOW IT WORKS
With Competitive Pest Control Services you'll never have to worry about paying for a job that hasn't been done.

If you're not satisfied with our services, we'll not only give you your money back, we'll return it to you twofold. That's right: you'll not only receive a full refund, we'll also pay to have your pest problem sorted by our competition.*

We're always trying to raise the standard of service, it's one of the reasons we were name Australian Pest Manager of the Year four times in the past six years. When you employ our services, you know your pest problem will soon be a distant memory. What could be more satisfying than that?

*Please contact us to hear more about our 200% Money Back Guarantee - as due to issues sometimes outside our control, not all services may be covered by this offer.
Talk to us about pest control for your home or business