Diseases from cockroaches
---
Cockroaches are among the most common pests in many people's homes or other buildings. At nighttime they search for food in kitchens, food storage units, rubbish bins, drains and even sewers. They are regarded as pests mainly because of their filthy habits and bad smell but unfortunately, they can cause more of an issue then just that. Some people may even become allergic to cockroaches after frequent exposure to them. Cockroaches can sometimes also play a role as carriers of intestinal diseases. Cockroaches can spread disease by contaminating human food with germs they pick up from other locations such as rubbish etc. They may only play a somewhat supplementary role in the spread of some diseases, but they are proven or suspected carriers of the organisms that can cause the following:
– leprosy
– plague
– diarrhoea
– dysentery
– cholera
– poliomyelitis.
– typhoid fever
They also can carry the eggs of parasitic worms and can cause allergic reactions, such as dermatitis, general itching, swelling of the eyelids and more serious respiratory conditions in some cases
How do I control these pests so that I don't get sick?
Effectively controlling these pests is much easier in temperate climates where cockroach populations cannot survive outdoors in winter as opposed to humid and warm areas. The key to controlling these pests is cleanliness, and climate which may be difficult in some areas. In any case make sure you give a professional a call.
Let us help keep you safe, call us for your pest removal needs today – phone 1300 766 614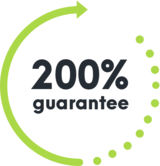 WE'RE NOT HAPPY UNLESS YOU'RE HAPPY
SEE HOW IT WORKS
With Competitive Pest Control Services you'll never have to worry about paying for a job that hasn't been done.

If you're not satisfied with our services, we'll not only give you your money back, we'll return it to you twofold. That's right: you'll not only receive a full refund, we'll also pay to have your pest problem sorted by our competition.*

We're always trying to raise the standard of service, it's one of the reasons we were name Australian Pest Manager of the Year four times in the past six years. When you employ our services, you know your pest problem will soon be a distant memory. What could be more satisfying than that?

*Please contact us to hear more about our 200% Money Back Guarantee - as due to issues sometimes outside our control, not all services may be covered by this offer.
Talk to us about pest control for your home or business