Diseases from mosquitos
---
Mosquito-borne diseases are those spread by the bite of an infected mosquito. Medications can be used to prevent infection and are available for malaria. Also vaccines are currently available for yellow fever. Avoidance of mosquito bites and use of mosquito repellent are recommended when you are in areas populated with these pests. Diseases that are spread to people by mosquitoes include the following:
Malaria
Malaria is a mosquito-borne disease caused by a parasite. It is found in many countries, including sub-Saharan Africa, South Asia, as well as Central and South America. Malaria is a serious illness and may be deadly, but prevention methods are available.
Chikungunya
Chikungunya virus is primarily found in Africa and Asia yet was found in 2013 for the first time in the Western Hemisphere.
Dengue
Dengue fever is primarily a tropical disease and rarely occurs within the continental United States. Small outbreaks have occurred in the past in states such as Florida, Hawaii, and Texas.
Zika Virus
Zika virus is a concern in many parts of the world. While most people who become infected with Zika virus have mild symptoms or no illness at all, the virus has been linked to serious health conditions, including Zika congenital syndrome in babies.
How do I control these pests so that I don't get sick?
Netting around your bed whilst you sleep, long sleeved clothes and sprays will help keep most mosquitos away. However if you have lots that are causing you bother on your property it is wise to give a professional a call.
Let us help keep you safe, call us for your pest removal needs today – phone 1300 766 614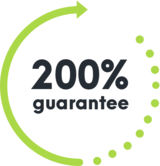 WE'RE NOT HAPPY UNLESS YOU'RE HAPPY
SEE HOW IT WORKS
With Competitive Pest Control Services you'll never have to worry about paying for a job that hasn't been done.

If you're not satisfied with our services, we'll not only give you your money back, we'll return it to you twofold. That's right: you'll not only receive a full refund, we'll also pay to have your pest problem sorted by our competition.*

We're always trying to raise the standard of service, it's one of the reasons we were name Australian Pest Manager of the Year four times in the past six years. When you employ our services, you know your pest problem will soon be a distant memory. What could be more satisfying than that?

*Please contact us to hear more about our 200% Money Back Guarantee - as due to issues sometimes outside our control, not all services may be covered by this offer.
Talk to us about pest control for your home or business