Diseases from rodents
---
Rodents such as rats can often be more than just an eye sore rummaging around by your trash. They can carry some pretty nasty diseases. Diseases that are spread to people by rodents include the following:
Hantavirus
Hantavirus Pulmonary Syndrome (HPS) is a severe illness caused from exposure to the droppings or urine of mice that carry the virus. It is important to be cautious when cleaning up in a enclosed space such as a , cabin or trailer where mice have nested or rodent droppings are present.
Leptospirosis
Leptospirosis is a disease caused by bacteria called Leptospira that infects both humans and a wide range of animals. Some people infected with leptospirosis will have no symptoms at all, and some people will become severely ill. Rodents carry the Leptospira bacteria and pass them in their urine. Soil or water contaminated with infected urine are the most common causes of human infection.
Plague
Plague is a serious infection of humans caused by a germ called Yersinia pestis. This is usually caused by the bite of a flea that has fed on an infected animal, such as a rat. It usually causes sores and abscesses in the glands of the arms and legs. Wild animals in infected fleas while traveling to other areas of the country. Plague is treatable with antibiotics.How do I control these pests so that I don't get sick?
How do I control these pests so that I don't get sick?
Always make sure to tidy around your bins and make sure the lids of them are shut and inaccessible. Rodents are often attracted to an easy meal and can cause damage to properties also over time. If you are concerned about this, you should contact a pest control professional
Let us help keep you safe, call us for your pest removal needs today – phone 1300 766 614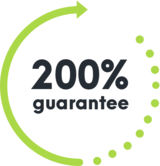 WE'RE NOT HAPPY UNLESS YOU'RE HAPPY
SEE HOW IT WORKS
With Competitive Pest Control Services you'll never have to worry about paying for a job that hasn't been done.

If you're not satisfied with our services, we'll not only give you your money back, we'll return it to you twofold. That's right: you'll not only receive a full refund, we'll also pay to have your pest problem sorted by our competition.*

We're always trying to raise the standard of service, it's one of the reasons we were name Australian Pest Manager of the Year four times in the past six years. When you employ our services, you know your pest problem will soon be a distant memory. What could be more satisfying than that?

*Please contact us to hear more about our 200% Money Back Guarantee - as due to issues sometimes outside our control, not all services may be covered by this offer.
Talk to us about pest control for your home or business