Fleas Cause Severe Reaction in Some Pets
---
How do you know if your dog and cat has a flea allergy?
Some pets suffer from severe reactions to flea bites.
The condition is known as Flea Bite Hypersensitivity (FAD) and causes severe discomfort for our pets. Dogs usually respond by biting their own backs over their tail, along with the inside of their legs and stomach.
The behaviour leads to bleeding, scabs, a loss of hair and sores.
Cats will often lick until their skin is bald and also develop sores.
Although the condition is not fatal, there is no cure for it. Pets suffering from FAD need treatment to ease the itching. This in turn will  stop them from scratching themselves and give their skin a chance to recover.
Some animals will also require antibiotics to treat infections caused by the scratching.
Animals that suffer from FAD need to be protected from exposure to fleas as much as possible.
People should use pest control treatments to eliminate fleas from the animal's living environment. Other pets in the home also need to be treated to ensure they are not carrying fleas.
Source: http://www.thereporter.com.au/news/some-pets-react-terribly-to-fleas/1957553/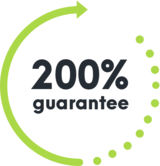 WE'RE NOT HAPPY UNLESS YOU'RE HAPPY
SEE HOW IT WORKS
With Competitive Pest Control Services you'll never have to worry about paying for a job that hasn't been done.

If you're not satisfied with our services, we'll not only give you your money back, we'll return it to you twofold. That's right: you'll not only receive a full refund, we'll also pay to have your pest problem sorted by our competition.*

We're always trying to raise the standard of service, it's one of the reasons we were name Australian Pest Manager of the Year four times in the past six years. When you employ our services, you know your pest problem will soon be a distant memory. What could be more satisfying than that?

*Please contact us to hear more about our 200% Money Back Guarantee - as due to issues sometimes outside our control, not all services may be covered by this offer.
Talk to us about pest control for your home or business