Eliminating Fire Ants
---
New technology is helping Queensland authorities to combat fire ants.
The aggressive pest was first detected in the state in 2001. It threatens crops, native animals and people and has inspired a concerted response from pest control authorities.
Fire Ant Treatment
While the geographic spread of the ants has increased since 2001, authorities have been encouraged by new technology known as remote sensing surveillance (RSS).
RSS uses aerial cameras that can quickly scan a vast area for fire ants in a fraction of the time ground based surveillance would take.
The cameras are attached to helicopters that fly over the area at 150 metres above the ground. The cameras take standard, thermal and near infrared images to identify the presence of fire ant nests. The nests have a particular shape and are usually around 10 degrees Celsius warmer than the ground around them.
The imagery is processed by an algorithm and then fed to analysts to take informed action.
This new strategy of remote sensing means that a much larger area can be scanned while costing less than ground based surveillance.
Source:http://theconversation.com/eradicating-the-red-imported-fire-ant-with-remote-sensing-16457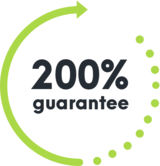 WE'RE NOT HAPPY UNLESS YOU'RE HAPPY
SEE HOW IT WORKS
With Competitive Pest Control Services you'll never have to worry about paying for a job that hasn't been done.

If you're not satisfied with our services, we'll not only give you your money back, we'll return it to you twofold. That's right: you'll not only receive a full refund, we'll also pay to have your pest problem sorted by our competition.*

We're always trying to raise the standard of service, it's one of the reasons we were name Australian Pest Manager of the Year four times in the past six years. When you employ our services, you know your pest problem will soon be a distant memory. What could be more satisfying than that?

*Please contact us to hear more about our 200% Money Back Guarantee - as due to issues sometimes outside our control, not all services may be covered by this offer.
Talk to us about pest control for your home or business