Pest Controller Finds Albino Mole
---
A pest controller has defied the odds and caught an albino mole.
The chance of catching an albino mole is 1 in 100,000 and pest controller Gareth Hughes said he knows of people working in the profession for 50 or 60 years who have never found one.
Hughes said he was working for a customer and, after setting six traps, came back to find the albino along with two black moles.
The prize catch is currently in the freezer but he will take it to a taxidermist to be stuffed. He said a stuffed albino mole can sell for as much as 700 pounds and he is looking into whether or not to sell it.
Hughes set up his business 12 months ago and uses natural methods such as trapping, smoking and ferrets to catch pests.
Although the middle of summer can be quiet for catching moles, this soon changes once the rain arrives and the moles startmoving around.
Source: http://www.dailypost.co.uk/news/local-news/mole-one-pest-controller-finds-5749980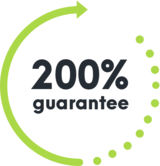 WE'RE NOT HAPPY UNLESS YOU'RE HAPPY
SEE HOW IT WORKS
With Competitive Pest Control Services you'll never have to worry about paying for a job that hasn't been done.

If you're not satisfied with our services, we'll not only give you your money back, we'll return it to you twofold. That's right: you'll not only receive a full refund, we'll also pay to have your pest problem sorted by our competition.*

We're always trying to raise the standard of service, it's one of the reasons we were name Australian Pest Manager of the Year four times in the past six years. When you employ our services, you know your pest problem will soon be a distant memory. What could be more satisfying than that?

*Please contact us to hear more about our 200% Money Back Guarantee - as due to issues sometimes outside our control, not all services may be covered by this offer.
Talk to us about pest control for your home or business