Flesh Eating Flies Found in Hospital
---
Flesh fly
Flies pose a health risk at hospitals and need to be dealt with quickly and effectively, explained Garrards Pest Review.
In a recent case, flies were found in the ICU and operating theatre of major hospitals. In the case of the ICU, the insect was a flesh fly which lays live maggots in decaying flesh. The cause was likely a dead possum or rat in the roof, with flies accessing the ICU through the air conditioning vent.
The operating theatre had to contend with phorid flies, which lay eggs in open wounds. Understandably, the surgeons refused to operate until the problem was dealt with.
A glueboard UV light was used in the ICU to lure and trap the flies. It collected a thousand within just two days. Very few flies made it into the ICU following the installation.
In the theatre, the rubbish removal methods were improved to remove the flies' food source. Traps and stickyboards were placed around the theatres to capture any remaining insects.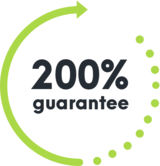 WE'RE NOT HAPPY UNLESS YOU'RE HAPPY
SEE HOW IT WORKS
With Competitive Pest Control Services you'll never have to worry about paying for a job that hasn't been done.

If you're not satisfied with our services, we'll not only give you your money back, we'll return it to you twofold. That's right: you'll not only receive a full refund, we'll also pay to have your pest problem sorted by our competition.*

We're always trying to raise the standard of service, it's one of the reasons we were name Australian Pest Manager of the Year four times in the past six years. When you employ our services, you know your pest problem will soon be a distant memory. What could be more satisfying than that?

*Please contact us to hear more about our 200% Money Back Guarantee - as due to issues sometimes outside our control, not all services may be covered by this offer.
Talk to us about pest control for your home or business