Where Will You Find Bed Bugs?
---
Where do Bed Bugs come from?
Bed bugs are one of Australians' biggest concerns when travelling domestically and overseas, according to Yahoo Travel.
With Australians making over four million trips abroad every year, 34% have encountered bed bugs on their travels. The highest number of infestations are found in Asia (49%), followed by Europe (43%).
Only 11% of Australians have encountered bed bugs in the country, mostly in NSW (48%) and Queensland (23%).
Pest controllers say that bed bugs are excellent travellers and migrate via luggage or clothing.
They are not limited to low socio-economic or dirty areas. Bed bugs can be found in five star hotels and any other area where people congregate and share bedding.
The creatures are hard to eliminate as they are mobile and the female lays upto 500 eggs in her lifetime.
However, travellers who encounter bed bugs are likely to spread the news widely. 61% report telling their friends and family, 15% post the information on travel review sites and an equal number post the message to social media sites like Facebook.
Phone 1300 766 614 today for affordable Bed Bugs Pest Control.
Read more: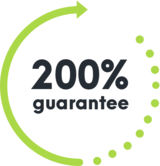 WE'RE NOT HAPPY UNLESS YOU'RE HAPPY
SEE HOW IT WORKS
With Competitive Pest Control Services you'll never have to worry about paying for a job that hasn't been done.

If you're not satisfied with our services, we'll not only give you your money back, we'll return it to you twofold. That's right: you'll not only receive a full refund, we'll also pay to have your pest problem sorted by our competition.*

We're always trying to raise the standard of service, it's one of the reasons we were name Australian Pest Manager of the Year four times in the past six years. When you employ our services, you know your pest problem will soon be a distant memory. What could be more satisfying than that?

*Please contact us to hear more about our 200% Money Back Guarantee - as due to issues sometimes outside our control, not all services may be covered by this offer.
Talk to us about pest control for your home or business