Demand for Pest Controllers On the Rise
---
With food scarcity increasing, demand for pest managers is set to rise, reported Simon Leather from theconversation.com.
Despite the demand for skilled pest controllers, the profession has trouble attacting graduates due to a lack of exposure to the field and a misunderstanding of what pest managers do.
Integrated pest management involves using a wide variety of approaches to combat pests, with pesticides being only one small component of any plan. A typical pest control plan may involve pest resistant plants, biological controls, land diversification, crop rotation and more. Pest controllers devise these plans baased on a detailed understanding of the biology and ecology of the pests being targeted. They need to be aware of their natural predators and how they are affected by habitat changes.
Pest managers today work in domestic and commercial settings, often engaged in high level work to ensure food security. Since solutions need to be affordable, they need a good grasp of economics along with business sense.
Read more: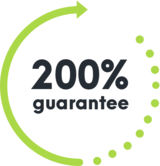 WE'RE NOT HAPPY UNLESS YOU'RE HAPPY
SEE HOW IT WORKS
With Competitive Pest Control Services you'll never have to worry about paying for a job that hasn't been done.

If you're not satisfied with our services, we'll not only give you your money back, we'll return it to you twofold. That's right: you'll not only receive a full refund, we'll also pay to have your pest problem sorted by our competition.*

We're always trying to raise the standard of service, it's one of the reasons we were name Australian Pest Manager of the Year four times in the past six years. When you employ our services, you know your pest problem will soon be a distant memory. What could be more satisfying than that?

*Please contact us to hear more about our 200% Money Back Guarantee - as due to issues sometimes outside our control, not all services may be covered by this offer.
Talk to us about pest control for your home or business