Fruit Flies Learn From Others
---
Researchers Study: Fruit Flies Learn From Others
From new research conducted by Marine Battesti of the Universite Paris-Sud in France, lead author of a study in Springer's journal, Behavioral Ecology and Sociobiology, fruit flies learn from each other, especially when it comes to where to lay her eggs.
The site that a female fruit fly chooses to lay her eggs are a vital part of the survival of future generations, therefore such choices are not fixed, but are influenced by the environment, genetics and the social context.
In the experiment conducted by Battesti and her colleagues, they watched what happened when naïve "observer" flies were given two possible sites on which to lay their eggs. The observer flies were mixed in with "demonstrator" flies, that were already trained to prefer one of the two media, which allowed them to choose.
The research showed that fruit flies largely, but not completely, conform in their choice of sites on which to lay their eggs to cues from their social group.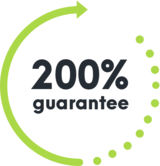 WE'RE NOT HAPPY UNLESS YOU'RE HAPPY
SEE HOW IT WORKS
With Competitive Pest Control Services you'll never have to worry about paying for a job that hasn't been done.

If you're not satisfied with our services, we'll not only give you your money back, we'll return it to you twofold. That's right: you'll not only receive a full refund, we'll also pay to have your pest problem sorted by our competition.*

We're always trying to raise the standard of service, it's one of the reasons we were name Australian Pest Manager of the Year four times in the past six years. When you employ our services, you know your pest problem will soon be a distant memory. What could be more satisfying than that?

*Please contact us to hear more about our 200% Money Back Guarantee - as due to issues sometimes outside our control, not all services may be covered by this offer.
Talk to us about pest control for your home or business