New York's Rat Population Smaller Than Believed
---
Is New York City really home to 8 million rats – or one for every human resident, as it was believed? For a city where rats cause an estimated quarter of all cable-line cuts and unsolved fires, this question is on everyone's mind, reports MSN News.
Jonathan Auerbach, a Ph.D. candidate at Columbia University, is challenging the "one rat per person" claim, estimating the rat population to be closer to 2 million, which he believes could even be a bit inflated. By using a thoroughly modern method – delving into open data.
The "one rat per person" claim stems from a study of rats conducted in England by W.R. Boelter where he surveyed the English countryside (but not villages, towns, or cities) and came up with an educated guess of 1 rat per acre of cultivated land. Since England had 40 million acres of cultivated land and a population of 40 million at the time, Boelter claimed that the country was host to one rat per person.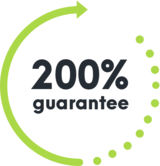 WE'RE NOT HAPPY UNLESS YOU'RE HAPPY
SEE HOW IT WORKS
With Competitive Pest Control Services you'll never have to worry about paying for a job that hasn't been done.

If you're not satisfied with our services, we'll not only give you your money back, we'll return it to you twofold. That's right: you'll not only receive a full refund, we'll also pay to have your pest problem sorted by our competition.*

We're always trying to raise the standard of service, it's one of the reasons we were name Australian Pest Manager of the Year four times in the past six years. When you employ our services, you know your pest problem will soon be a distant memory. What could be more satisfying than that?

*Please contact us to hear more about our 200% Money Back Guarantee - as due to issues sometimes outside our control, not all services may be covered by this offer.
Talk to us about pest control for your home or business