Highest concentration of Diving Tarantula's found in the Northern Territory.
---
Hidden from outsiders and deep within lands controlled by traditional Aboriginal owners an estimated 25,000 diving tarantulas live along a 10 kilometre stretch of floodplain. The head of Queensland's Museum's arachnological division, Dr Robert Raven believes that there are more species of Tarantulas in the Northern Territory than any other state and it creates a special opportunity to research and possibly unlock a medical miracle.
Dr Raven said to ABC that any venomous creature that could infect a vertebrate had a "significant potential" to be a source of a valuable pharmaceutical that could benefit the entire community as the entire intellectual property belongs to them.
Little is known about the species is it can swim, coating itself in air bubbles to breath underwater and access its burrow when submerged during the wet season. It is unknown why such great numbers live closely together in a relatively small area, where the young live and can be found elsewhere the Territory.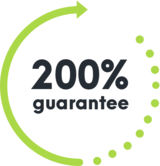 WE'RE NOT HAPPY UNLESS YOU'RE HAPPY
SEE HOW IT WORKS
With Competitive Pest Control Services you'll never have to worry about paying for a job that hasn't been done.

If you're not satisfied with our services, we'll not only give you your money back, we'll return it to you twofold. That's right: you'll not only receive a full refund, we'll also pay to have your pest problem sorted by our competition.*

We're always trying to raise the standard of service, it's one of the reasons we were name Australian Pest Manager of the Year four times in the past six years. When you employ our services, you know your pest problem will soon be a distant memory. What could be more satisfying than that?

*Please contact us to hear more about our 200% Money Back Guarantee - as due to issues sometimes outside our control, not all services may be covered by this offer.
Talk to us about pest control for your home or business