Insects as inspiration to improve aircraft
---
Insects legs give clues to improving Aircraft Design
Trinity College professor David Taylor and his team of researchers In Dublin, Ireland are researching how to incorporate the way insect legs function with aircraft designs to help create them safer, reduce the aircraft weight and improve durability.
The researchers chose insects with different leg shape and lifestyles such as stick insects, bees, locusts and cockroaches to understand how they are able to buckle and bend when pressure is applied to the legs and hope to lead to the development of nature inspired biomimetic materials.
Stick insects have five longitudinal ridges running down their legs. "We discovered that these ridges do not prevent buckling but they do help the legs stay intact" said Taylor on Tech Times. In particular, they help resist a particular type of buckling called elastic buckling. This shows how material properties and geometry can interact in complex ways, which must be taken into account when designing thin-walled tubes."
Read More: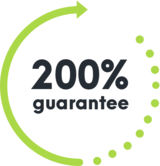 WE'RE NOT HAPPY UNLESS YOU'RE HAPPY
SEE HOW IT WORKS
With Competitive Pest Control Services you'll never have to worry about paying for a job that hasn't been done.

If you're not satisfied with our services, we'll not only give you your money back, we'll return it to you twofold. That's right: you'll not only receive a full refund, we'll also pay to have your pest problem sorted by our competition.*

We're always trying to raise the standard of service, it's one of the reasons we were name Australian Pest Manager of the Year four times in the past six years. When you employ our services, you know your pest problem will soon be a distant memory. What could be more satisfying than that?

*Please contact us to hear more about our 200% Money Back Guarantee - as due to issues sometimes outside our control, not all services may be covered by this offer.
Talk to us about pest control for your home or business