National bee pest surveillance to be Reviewed
---
Australia is the only country left to yet to contract the destructive bee pest Varroa destructor mite but is at high risk of that the pest could travel by cargo ships from neighbouring trade countries such as New Zealand, Indonesia and Paua New Guinea. The Varroa is an external parasitic mite that attacks the honey bees Apis cerana and Apis mellifera. The disease caused by the mites is called varroosis. It attaches to the body of the bee and weakens the bee by sucking hemolymph. The Varroa mite is the parasite with the most pronounced economic impact on the beekeeping industry.
If the bee pest like Varroa did enter Australia it would have a major impact on the honey bee industry and pollination markets. The aim of the National Bee Pest Surveillance Program is to detect such incursions as early as possible by setting up surveillance within a close proximity of potential incursion zone such as sentinel bee hives positioned close to ports, floral sweep netting for exotic bees, swarm and nest capture and catch boxes.
Sam Malfroy from Plant Health Australia said the program focused on 30 to 40 ports which were considered high risk but Australia has around 60 first call ports that all require a basic level of bee pest  control surveillance, the honey bee industry, Australian Government, state and territory governments want to look at what they are doing and how they can improve and all agree on so that we can roll out a program so that industries and government are protected into the future with a really effective surveillance program.
Read More: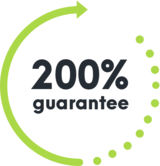 WE'RE NOT HAPPY UNLESS YOU'RE HAPPY
SEE HOW IT WORKS
With Competitive Pest Control Services you'll never have to worry about paying for a job that hasn't been done.

If you're not satisfied with our services, we'll not only give you your money back, we'll return it to you twofold. That's right: you'll not only receive a full refund, we'll also pay to have your pest problem sorted by our competition.*

We're always trying to raise the standard of service, it's one of the reasons we were name Australian Pest Manager of the Year four times in the past six years. When you employ our services, you know your pest problem will soon be a distant memory. What could be more satisfying than that?

*Please contact us to hear more about our 200% Money Back Guarantee - as due to issues sometimes outside our control, not all services may be covered by this offer.
Talk to us about pest control for your home or business