Tree-killing Insect Nearly Finished In Twin Cities
---
The Illinois Department of Agriculture no longer will enforce a 2007 ban on transporting firewood between counties because the borer is too widespread. After the state gave up its fight against the spread of the emerald ash borer, local officials said the tree-killing insect is nearly finished in Bloomington-Normal. The insect first was found in Kane County in 2006 and spread to McLean County in 2008. Since then, the town of Normal and city of Bloomington have worked together to treat the infestation and replace thousands of dead and dying trees on their properties. "It's been devastating. … Almost all ash trees have been affected," said Normal Parks Supervisor Tyler Bain. "It won't be that long before we replace all those trees."
Neither city has an estimate of how much monetary damage the ash borer has caused, but Bain said the community feels it in the size of the new trees as the trees they are replacing them with are much smaller that will take years to get to the size of what the damaged trees were. Lamb said Bloomington has "been replanting them one-for-one" when they're removed. Bain said Normal seeks to replace 200 to 300 trees each spring and again in the fall to fight the borer and also to routinely beautify the town. Replacement trees include elm, maple and oak. Lamb said he's heard from residents who miss the ash trees during fall colours as well.
They had about 4,100 ash trees on city property and removed about 3,000 of them. About 300 trees are being treated with a product called 'TREE-äge where they are seeing about 80 percent success. "Out at Ironwood Golf Course, that's our biggest concentration of ash trees by a long shot. Upward of 700 trees out there are infested," Bain said. "This fall and through the winter, we're going to take a large portion of the 700 out."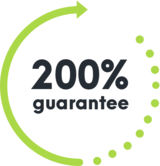 WE'RE NOT HAPPY UNLESS YOU'RE HAPPY
SEE HOW IT WORKS
With Competitive Pest Control Services you'll never have to worry about paying for a job that hasn't been done.

If you're not satisfied with our services, we'll not only give you your money back, we'll return it to you twofold. That's right: you'll not only receive a full refund, we'll also pay to have your pest problem sorted by our competition.*

We're always trying to raise the standard of service, it's one of the reasons we were name Australian Pest Manager of the Year four times in the past six years. When you employ our services, you know your pest problem will soon be a distant memory. What could be more satisfying than that?

*Please contact us to hear more about our 200% Money Back Guarantee - as due to issues sometimes outside our control, not all services may be covered by this offer.
Talk to us about pest control for your home or business