Hot Weather Makes Prime Wasp Conditions
---
As summer continues in the Northern Hemisphere, it is keeping a lot of the pest control companies busy. Though wasp numbers are not actually up this year in Canada, according to city officials, Ryan Frawley from Active Pest Solutions says he has been receiving up to 10 calls everyday.
This is believed to be because people are spending more time outdoors due to the beautiful warm weather, bringing them into contact with more wasps and their nests. Wasps thrive during the summer as the hotter it is, the more other bugs and insects are out, which are the main food source for wasps. This makes the wasps a lot more active throughout summer.
Frawley ensures the queen and the brood are killed when being called out to remove a nest. "Individual wasps can't live without a queen or a brood," added Frawley.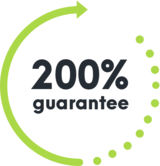 WE'RE NOT HAPPY UNLESS YOU'RE HAPPY
SEE HOW IT WORKS
With Competitive Pest Control Services you'll never have to worry about paying for a job that hasn't been done.

If you're not satisfied with our services, we'll not only give you your money back, we'll return it to you twofold. That's right: you'll not only receive a full refund, we'll also pay to have your pest problem sorted by our competition.*

We're always trying to raise the standard of service, it's one of the reasons we were name Australian Pest Manager of the Year four times in the past six years. When you employ our services, you know your pest problem will soon be a distant memory. What could be more satisfying than that?

*Please contact us to hear more about our 200% Money Back Guarantee - as due to issues sometimes outside our control, not all services may be covered by this offer.
Talk to us about pest control for your home or business