Surveys Reveals Restaurant Patrons Underestimate Fly Threats
---
An Orkin Survey reveals shocking results on how restaurant patrons underestimate the health threats that flies present. Orkin entomologist and Technical Services Director Ron Harrison explains, "Many restaurants may not be aware that house flies are twice as filthy as cockroaches". He further stresses the importance that people understand the health threat from flies to prevent the transmission of dangerous diseases and bacteria.
According to the survey:
– 61% of people would continue eating their meal after a fly has touched and contaminated it.
– And only 3% of people would continue eating their food on which a cockroach crawled.
Flies can leave behind thousands of germs and bacteria causing serious illnesses such as diarrhea, food poisoning, meningitis and bloodstream infections. They spread disease-causing pathogens after traveling from places with disease-laden garbage dumps and therefore, should not enter food preparation and dining areas.
Another survey conducted by Orkin highlights the low tolerance restaurant patrons have for pest sightings – as more than half expect a discount on their meal after spotting a pest in the restaurant.
– 50% have seen a pest at a restaurant in the last 12 months
– 95% of those sightings included flies
– 75% of those sightings were unreported because the restaurant patrons did not consider flies a major issue.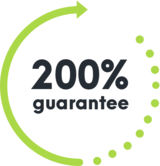 WE'RE NOT HAPPY UNLESS YOU'RE HAPPY
SEE HOW IT WORKS
With Competitive Pest Control Services you'll never have to worry about paying for a job that hasn't been done.

If you're not satisfied with our services, we'll not only give you your money back, we'll return it to you twofold. That's right: you'll not only receive a full refund, we'll also pay to have your pest problem sorted by our competition.*

We're always trying to raise the standard of service, it's one of the reasons we were name Australian Pest Manager of the Year four times in the past six years. When you employ our services, you know your pest problem will soon be a distant memory. What could be more satisfying than that?

*Please contact us to hear more about our 200% Money Back Guarantee - as due to issues sometimes outside our control, not all services may be covered by this offer.
Talk to us about pest control for your home or business