How To Get Pest Management Right in the Food Industry?
---
Food companies need to have a pest management strategy in place, explained Food magazine.
Best Pest Management Tips for Food Industry:
While it's not an issue that many like talking about, not having a plan can endanger customers and the business' reputation.
The Australian Environmental Pest Managers Association (AEPMA) created a new code of practice for the food industry just eighteen months ago.
AEPMA representative David Gray said the code brought together the disparate standards currently operating in various sectors of the industry.
The code is now an easy to use resource for manufacturers, pest managers and auditors.
The code was developed partly in response to the fact that many auditors come from a food background and have little knowledge of pest management. Auditors now review pest management in a business more methodically and set improvement targets.
Pest Manager Paul Moreira argued that the key to pest management is cleanliness and maintenance. Food manufacturers also need to consider varied approaches to containing pests, such as using physical barriers and limiting their food source rather than simply applying chemicals.
"All of those things link into the site's pest management program," he said.
Source: http://www.foodmag.com.au/features/don-t-let-pest-management-eat-away-at-you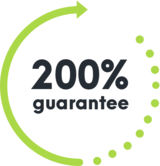 WE'RE NOT HAPPY UNLESS YOU'RE HAPPY
SEE HOW IT WORKS
With Competitive Pest Control Services you'll never have to worry about paying for a job that hasn't been done.

If you're not satisfied with our services, we'll not only give you your money back, we'll return it to you twofold. That's right: you'll not only receive a full refund, we'll also pay to have your pest problem sorted by our competition.*

We're always trying to raise the standard of service, it's one of the reasons we were name Australian Pest Manager of the Year four times in the past six years. When you employ our services, you know your pest problem will soon be a distant memory. What could be more satisfying than that?

*Please contact us to hear more about our 200% Money Back Guarantee - as due to issues sometimes outside our control, not all services may be covered by this offer.
Talk to us about pest control for your home or business