How to Control Pests
---
Tips for Controlling Pests in and Around your Home
A pest infestation is a complex problem that requires a three-pronged attack. People should use an integrated approach when dealing with pest problems.
Integrated Pest Management involves three main components – stopping pests from entering a space, denying them sustenance and using traps or chemical treatment if needed.
To stop rats and mice from entering a home, people should check thoroughly for ways they can enter and block those points. This includes plugging foundations, filling crawl spaces and removing branches that overhang the property.
The area outside the home can also be made less attractive to rodents. Rubbish should be stored in sealed bins rather than plastic bags outside. The grass should also be kept short to deprive pests of a place to hide and pet food should be kept inside. Bird food should also be kept out of reach from rodents while vegetable gardens should be securely fenced.
It's also important to encourage neighbours to do the same as keeping pests away is much more effective when tackled by the street as a whole.
If the first two steps of an Integrated Pest Management plan don't work then it's time to call in the professionals to trap or bait the pests.
Source: http://www.wickedlocal.com/belmont/news/x1580230514/See-a-rat-dont-get-a-cat-do-this-instead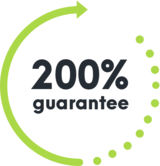 WE'RE NOT HAPPY UNLESS YOU'RE HAPPY
SEE HOW IT WORKS
With Competitive Pest Control Services you'll never have to worry about paying for a job that hasn't been done.

If you're not satisfied with our services, we'll not only give you your money back, we'll return it to you twofold. That's right: you'll not only receive a full refund, we'll also pay to have your pest problem sorted by our competition.*

We're always trying to raise the standard of service, it's one of the reasons we were name Australian Pest Manager of the Year four times in the past six years. When you employ our services, you know your pest problem will soon be a distant memory. What could be more satisfying than that?

*Please contact us to hear more about our 200% Money Back Guarantee - as due to issues sometimes outside our control, not all services may be covered by this offer.
Talk to us about pest control for your home or business