How to Store Flour and Stop Pests Getting In
---
Flour: How to Keep Pests Out?
Regular bakers should follow a few basic guidelines when storing flour in order to prevent pests spoiling it:
Large, food-safe containers with tightly sealing lids are best for storing large quantities of flour. The lid needs to be airtight rather than just firm. If not, air, moisture and small pests are able to enter.
For smaller amounts of flour, strong containers or glass jars are fine to use. If reusing a container, it's important to ensure there is no odour in the material that could infuse into the flour.
If the flour is being stored in bags, it needs to be kept in a cupboard without strong smells. It also needs to be kept safe from potential pests. Flour should also not be kept on the floor as moisture can enter the bag.
It's also important to realise that flour only stays fresh for a brief period of time, especially if it's whole-wheat. It's better to buy flour as needed rather than storing up large amounts for the future.
Source: blogs.edmontonjournal.com/2013/07/02/how-do-i-store-flour/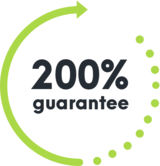 WE'RE NOT HAPPY UNLESS YOU'RE HAPPY
SEE HOW IT WORKS
With Competitive Pest Control Services you'll never have to worry about paying for a job that hasn't been done.

If you're not satisfied with our services, we'll not only give you your money back, we'll return it to you twofold. That's right: you'll not only receive a full refund, we'll also pay to have your pest problem sorted by our competition.*

We're always trying to raise the standard of service, it's one of the reasons we were name Australian Pest Manager of the Year four times in the past six years. When you employ our services, you know your pest problem will soon be a distant memory. What could be more satisfying than that?

*Please contact us to hear more about our 200% Money Back Guarantee - as due to issues sometimes outside our control, not all services may be covered by this offer.
Talk to us about pest control for your home or business