I have a termite infestation, how quickly can it be removed?
---
Termites can cause an immense amount of damage to a property in a relatively short amount of time if they are not tackled with haste. One of the most effective methods of controlling an infestation is using bait. Individual termites can be affected within a few days or so after consuming bait, but it may take several months before an entire colony is controlled or eliminated. There are other options that can be explored with your local pest control company that may work better for your own circumstances.
What are the common signs of termites?
Termites that swarm are often attracted to light and can be found near windows, doors, vents and lights. Experiencing a termite swarm is the number one sign that your property has a termite problem. Even if you have not seen signs of termites, check windows, heating vents, doors, sinks and bathtubs for dead termites or termite wings. Another common sign of termite activity is mud tubes, these provide shelter for termites and have a muddy, flattened appearance approximately the circumference of a straw. Look for mud tubes along cracks, beneath flooring, side skirts, on pipes, piers, behind siding, plumbing and other fixtures. Mud tubes may also extend over concrete foundations and other exposed surfaces.
Let us help keep you safe, call us for your pest removal needs today – phone 1300 766 614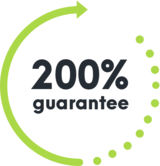 WE'RE NOT HAPPY UNLESS YOU'RE HAPPY
SEE HOW IT WORKS
With Competitive Pest Control Services you'll never have to worry about paying for a job that hasn't been done.

If you're not satisfied with our services, we'll not only give you your money back, we'll return it to you twofold. That's right: you'll not only receive a full refund, we'll also pay to have your pest problem sorted by our competition.*

We're always trying to raise the standard of service, it's one of the reasons we were name Australian Pest Manager of the Year four times in the past six years. When you employ our services, you know your pest problem will soon be a distant memory. What could be more satisfying than that?

*Please contact us to hear more about our 200% Money Back Guarantee - as due to issues sometimes outside our control, not all services may be covered by this offer.
Talk to us about pest control for your home or business