There's cockroaches in my kitchen, but how did they get here?
---
Roaches are a real pain, especially if you find them in your kitchen, as they can contaminate your food and drink. Many types of roaches gain access to properties from the outside, and their flat bodies allow them to crawl through very tight spaces. Therefore, it is important to check the area around your kitchen for gaps, cracks and holes that may serve as entry points. You can also use weather stripping around your doors and seal areas around windows that roaches may be able to crawl through. It is important also that roaches will be attracted if you make your kitchen habitable to them so make sure you clean your kitchen regularly.
Get professional help
Despite your best efforts to keep them out, you may still find cockroaches in your kitchen. After all, they're resilient by nature they've been around for millennia, Sometimes you will need outside help. Contact a pest control company as soon as you can as some roach infestations may go undetected until the populations are well established, so time is of the essence. A pest control professional can perform a thorough inspection of your house can understand which combination of control methods will be most effective for your case.
Let us help keep you safe, call us for your pest removal needs today – phone 1300 766 614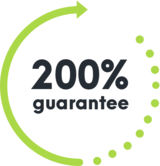 WE'RE NOT HAPPY UNLESS YOU'RE HAPPY
SEE HOW IT WORKS
With Competitive Pest Control Services you'll never have to worry about paying for a job that hasn't been done.

If you're not satisfied with our services, we'll not only give you your money back, we'll return it to you twofold. That's right: you'll not only receive a full refund, we'll also pay to have your pest problem sorted by our competition.*

We're always trying to raise the standard of service, it's one of the reasons we were name Australian Pest Manager of the Year four times in the past six years. When you employ our services, you know your pest problem will soon be a distant memory. What could be more satisfying than that?

*Please contact us to hear more about our 200% Money Back Guarantee - as due to issues sometimes outside our control, not all services may be covered by this offer.
Talk to us about pest control for your home or business