Unexpected Pests: Seagulls by the coast
---
Seagulls are a pest found in many coastal towns around the world. They are seen as pests and not just due to them pooping on cars and beachgoers. As tourists swamp to beaches and coasts as does their food rubbish and overflowing bins, this encourages seagulls to hang around to feed. This in turn can cause the gulls to swoop down on people, either getting very close to scare them or even attacking
them for their food.
Are seagulls dangerous?
Seagulls are pests who are quite dangerous as they can pick up harmful bacteria which can lead to some nasty and potentially dangerous infections, like E. coli, salmonella and listeria. Also thousands of mites can be found in their empty nests and this can be passed on and lead to infections and severe skin irritation. They can be very aggressive and can attack people, this is especially when they think their young are under threat.
Let us help keep you safe, call us for your pest removal needs today – phone 1300 766 614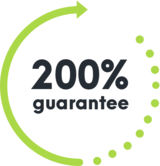 WE'RE NOT HAPPY UNLESS YOU'RE HAPPY
SEE HOW IT WORKS
With Competitive Pest Control Services you'll never have to worry about paying for a job that hasn't been done.

If you're not satisfied with our services, we'll not only give you your money back, we'll return it to you twofold. That's right: you'll not only receive a full refund, we'll also pay to have your pest problem sorted by our competition.*

We're always trying to raise the standard of service, it's one of the reasons we were name Australian Pest Manager of the Year four times in the past six years. When you employ our services, you know your pest problem will soon be a distant memory. What could be more satisfying than that?

*Please contact us to hear more about our 200% Money Back Guarantee - as due to issues sometimes outside our control, not all services may be covered by this offer.
Talk to us about pest control for your home or business