Raccoons and cities
---
Raccoons typically in nature are found to den in hollow trees, burrows, brush piles, barns and abandoned buildings, haystacks or rock crevices. They are also known to use parts of homes, including chimneys, attics, and hollow areas beneath porches to make dens. Busy cities and towns make a perfect habitat for many raccoons in the modern day, with side alleys filled with dumpsters and hollow areas for them to hide in. Cities have no shortage of food for these animals and so they tend to overpopulate very quickly.
How to protect your property from raccoons.
If you live in an area that is prone to raccoon invasions it is wise to give yourself a fighting chance against them, and their habit of spilling rubbish around your property and leaving a mess. One of the easiest ways to do this is to try bringing your bins in at night or to have a tight screwable bin lid, these crafty pests have been known to open garbage cans with traditional plastic or metal lids. Raccoons have a
strong sense of smell, which they use to find food sources. You can use this to your advantage by using strong scents they dislike, such as hot pepper, onion, garlic, peppermint oil and Epsom salt to repel them. Doing this regularly will deter these pests from making unwelcome visits to your property.
Let us help keep you safe, call us for your pest removal needs today – phone 1300 766 614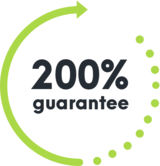 WE'RE NOT HAPPY UNLESS YOU'RE HAPPY
SEE HOW IT WORKS
With Competitive Pest Control Services you'll never have to worry about paying for a job that hasn't been done.

If you're not satisfied with our services, we'll not only give you your money back, we'll return it to you twofold. That's right: you'll not only receive a full refund, we'll also pay to have your pest problem sorted by our competition.*

We're always trying to raise the standard of service, it's one of the reasons we were name Australian Pest Manager of the Year four times in the past six years. When you employ our services, you know your pest problem will soon be a distant memory. What could be more satisfying than that?

*Please contact us to hear more about our 200% Money Back Guarantee - as due to issues sometimes outside our control, not all services may be covered by this offer.
Talk to us about pest control for your home or business