Unexpected pests: Bears in the suburbs
---
In some parts of the world, you need to worry about larger pests then just the odd cockroach or rat. In north America, many people experience the fright of bears rummaging through their garbage. Black bears will eat anything berries, fruit, acorns, grass, carrion, corn and other food products, even small animals when they can catch them. But they have a well-documented taste for bird seed, dog food, garbage, and anything sweet, which there is no shortage of in the suburbs.
How bears are kept away from properties.
Bears will not stay in suburban areas if they do not find anything to feed upon and taking precautions can help prevent bear problems. It is recommended to keep garbage cans indoors until pickup day and not to leave pet food out overnight. It is suggested that backyard bird store feeders are kept inside at night or hung from crosswires at least 11 feet from the ground and 5 feet from anything a bear could possibly climb. Keep in mind that outdoor pets are also at risk. If you spot a bear do not confront it.
Leave it alone and it will eventually go away. Otherwise, you are putting your life in danger.
Let us help keep you safe, call us for your pest removal needs today – phone 1300 766 614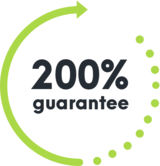 WE'RE NOT HAPPY UNLESS YOU'RE HAPPY
SEE HOW IT WORKS
With Competitive Pest Control Services you'll never have to worry about paying for a job that hasn't been done.

If you're not satisfied with our services, we'll not only give you your money back, we'll return it to you twofold. That's right: you'll not only receive a full refund, we'll also pay to have your pest problem sorted by our competition.*

We're always trying to raise the standard of service, it's one of the reasons we were name Australian Pest Manager of the Year four times in the past six years. When you employ our services, you know your pest problem will soon be a distant memory. What could be more satisfying than that?

*Please contact us to hear more about our 200% Money Back Guarantee - as due to issues sometimes outside our control, not all services may be covered by this offer.
Talk to us about pest control for your home or business