Is it possible to prevent pests naturally?
---
In this blog I am going to discuss the best natural means in which to prevent pests. One of the easiest ways in which to protect again insect type pests is by introducing beneficial insects around your property. An example of this would be ground beetles. One beetle larva alone can eat more than 50 caterpillars!
Another method to try to reduce and stop pests in and around your property is to use traps to relocate the pests without the use of harsh chemicals, these traps can be ordered online or stocked in some shops.
What else can I try?
A very popular alternative to chemical pest control is using household items to prevent pests. An example of this is using pretty much anything that contains citronella. It can work to repel flies and a lot of other pests. Some people will burn citronella candles in their homes. Whilst other people will take citronella oil and soak surfaces in it. There are also citronella sprays that will quickly and easily fill the entire house with the scent, which is something that most people will like and that most bugs will hate. If none of these methods give you any luck however it may be an indication of an issue that should be handled by pest professionals so make sure you check with your local pest control company.
Let us help keep you safe, call us for your pest removal needs today – phone 1300 766 614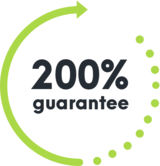 WE'RE NOT HAPPY UNLESS YOU'RE HAPPY
SEE HOW IT WORKS
With Competitive Pest Control Services you'll never have to worry about paying for a job that hasn't been done.

If you're not satisfied with our services, we'll not only give you your money back, we'll return it to you twofold. That's right: you'll not only receive a full refund, we'll also pay to have your pest problem sorted by our competition.*

We're always trying to raise the standard of service, it's one of the reasons we were name Australian Pest Manager of the Year four times in the past six years. When you employ our services, you know your pest problem will soon be a distant memory. What could be more satisfying than that?

*Please contact us to hear more about our 200% Money Back Guarantee - as due to issues sometimes outside our control, not all services may be covered by this offer.
Talk to us about pest control for your home or business